Fourteen dead and buildings levelled as magnitude-7.0 earthquake rocks Greece and Turkey
30 October 2020, 15:41 | Updated: 30 October 2020, 20:32
At least 14 people have died and hundreds are injured after a strong earthquake rocked parts of Greece and Turkey.
Two of the deaths were reported in Greece, while the Turkish disaster authority said a further 12 people had died in the western province of Izmir.
Speaking from Istanbul, Turkish President Recep Tayyip Erdogan said at least 438 people had been injured, including eight in intensive care.
Five people are also undergoing surgery.
Greek Prime Minister Kyriakos Mitsotakis later tweeted his condolences, saying words were "too poor" to describe the feeling of losing children.
It came after two teenagers on the island of Samos were killed when a wall collapsed on them.
A tsunami has warning was also issued on the island, where 19 people were injured.
Two of the wounded, including a 14-year-old, were airlifted to Athens, while another seven were admitted to hospital on the island itself.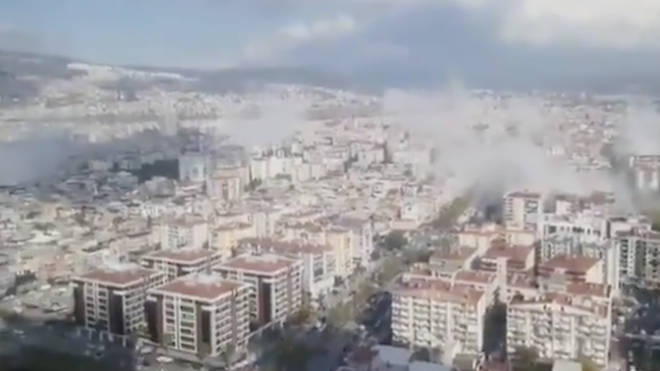 Back in Izmir, an enormous search and rescue operation is currently underway to find survivors in the rubble of more than a dozen levelled buildings.
Local governor Yavuz Selim Kosger said at least 70 people had been rescued from the ruins of four buildings that have destroyed, and another 10 that have collapsed.
The quake itself was registered at magnitude-7.0 by the US geological survey (USGS) and triggered numerous aftershocks in both Turkey and Greece.
A small tsunami also struck the Seferisar district as a result.
Footage on social media that showed the immediate aftermath of the quake in Izmir showed buildings collapsing into a pile of rubble and smoke as people nearby screamed.
Other videos showed fast-flowing floodwaters carrying debris past homes in Seferhisar.
According to the USGS, the quake struck the Dodecanese Islands in Greece at 11.51am today.
It was felt across the eastern Greek islands, and across to Athens and Bulgaria.
Turks felt the tremors across the Aegean, Marmara and in its largest city Istanbul.
Greek seismologist Efthymios Lekkas told Greek state television ERT that it wasn't yet clear whether this was the main earthquake, but said it was likely.
"It is an event that is evolving," he said.
Greece and Turkey have experience tensed bilateral relations in recent months - but the disaster on Friday resulted in a rare show of solidarity between the pair.
Turkish communications director Fahrettin Altun said the tragedy reminded him of "how close we are despite our differences over policy."
He added: "We're ready to help if Greece needs it."
Mr Mitsotakis, meanwhile, said he had phoned Mr Erdogan "to offer my condolences for the tragic loss of life from the earthquake that struck both our countries.
"Whatever our differences, these are times when our people need to stand together."