Some workers trapped in India tunnel collapse are sick as rescue delayed
15 November 2023, 15:54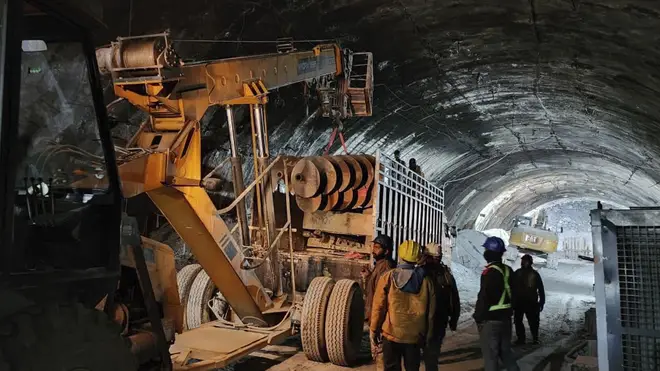 Magistrate Abhishek Ruhela said some workers have sent messages that they are suffering from fever and body aches.
Some of the 40 workers trapped for days in a collapsed road tunnel in northern India have become ill as falling debris and technical glitches delayed work to free them, officials said.
Rescuers have been trying to drill through the rubble and insert wide steel pipes to free the construction workers who have been trapped since Sunday when a portion of the tunnel they were working on collapsed in the mountainous state of Uttarakhand.
Progress has been slow because of debris falling in the channel excavated so far and glitches with the rescuers' drilling machine, but a more powerful machine has been airlifted to the scene and was being assembled for use, the National Highway Authority said.
The group of 40 construction workers, most of them migrant labourers from across India, have confirmed receiving food and water sent via narrow channels in the debris, the authority said.
However, some of them are expressing concern because they have started suffering from fever and body aches, said Abhishek Ruhela, a magistrate and the top government official in the town of Uttarkashi near where the collapse happened. Medicine also has been sent through the pipes, he said.
"Essential eatables such as chickpeas and almonds are being sent through the same channels," Mr Ruhela said.
Relatives and friends of the trapped workers have gathered outside the tunnel, and were growing frustrated and angry.
The state government has been conferring with the Indian army as well as with foreign experts for suggestions that might help in the rescue.
State officials have contacted Thai experts who helped rescue a junior football team that was trapped in a cave system in northern Thailand in 2018, state government administrator Gaurav Singh said. They also have approached the Norwegian Geotechnical Institute for possible help, Mr Singh said.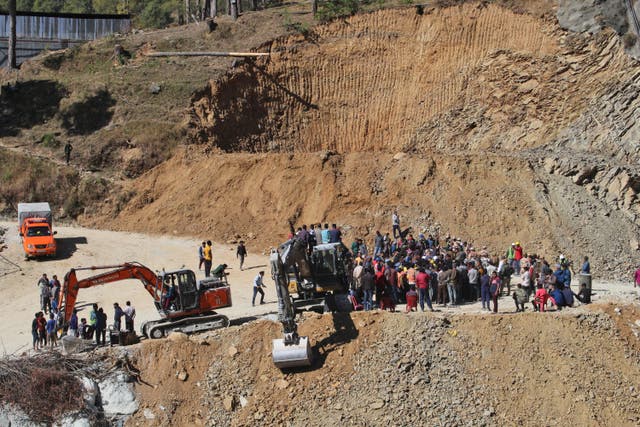 About 200 disaster relief personnel have been at the site using drilling equipment and excavators in the rescue operation, with the plan to push 75cm-wide steel pipes through an opening of excavated debris.
Falling debris lightly injured two rescue workers, and delayed operations on Tuesday and Wednesday.
"These are challenges in such rescue operations, but we will overcome them," disaster management official Ranjit Sinha said.
A landslide during road construction on Sunday caused a portion of the tunnel to collapse about 200 metres from the entrance. It is a hilly tract of land, prone to landslide and subsidence.
Uttarakhand is a mountainous state dotted with Hindu temples that attract many pilgrims and tourists and the construction of roads and buildings has been constant to accommodate the influx.
The tunnel is part of the busy Chardham all-weather road, a flagship federal project connecting various Hindu pilgrimage sites.