Airport unveils Christmas tree made of confiscated knives, scissors and lighters
15 December 2019, 11:41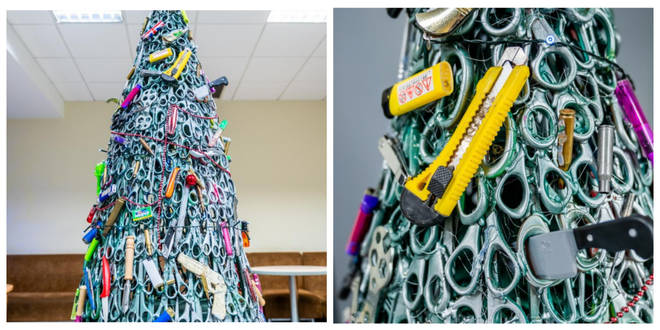 A Lithuanian Airport has chosen to celebrate Christmas a little differently by creating a festive tree out of knives, scissors and a gun.
Vilnius airport used items confiscated by security for their Christmas creation and posted the results on social media.
All of the items, including a bloodstained knife, were found in passengers luggage as they travelled through the airport.
The 1.5m construction took just over two weeks to build.
No tree is complete without a star at the very top, and this one has been replaced with a version made from cheese knives.
In addition to the knife, the tree features green scissors in place of branches, and a fake gun, with lighters and Swiss army knives in place of decorations.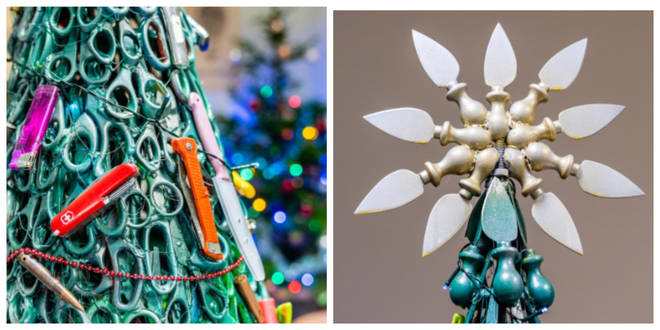 Writing on their social media, the airport said they wanted the creation to serve as a reminder what items should be left at home.
"Here at Lithuanian Airports, we are certain that you have seen many different Christmas trees - natural, modern, innovative, and simply quirky. We can guarantee - you haven't seen anything like this," they wrote.
"With the winter travel season well under way, the Aviation security officers at Vilnius Airport opted for an unusual take on the Christmas classic, aiming to send an educational message on the importance of aviation security.
"Using items that are prohibited to carry in hand luggage and which were taken away from passengers during screening, the lads at the Aviation security unit of Lithuania's main airport created a truly unique educational masterpiece.
"With knives, scissors, lighters, blades and all other sorts of dangerous goods on it - this Christmas tree has it all.
"So if you don't want your personal, yet prohibited, belongings to land on our next year's Christmas tree - better check out the baggage requirements before you pack for your next flight. Safe travels!"