The Baby Gender Reveal That Sparked A 47,000-Acre Wildfire
28 November 2018, 14:48 | Updated: 28 October 2019, 15:26
A gender reveal party has been blamed for a huge wildfire which burned through almost 47,000 acres in Arizona.
Newly released footage shows the moment an off-duty officer shot at a makeshift target designed to reveal the gender of his unborn baby.
Instead, the explosion triggered a huge blaze, destroying 47,000 acres and took almost 800 firefighters to put out.
The fire quickly spread thanks to months of dry weather and reached as far as Coronado National Forest.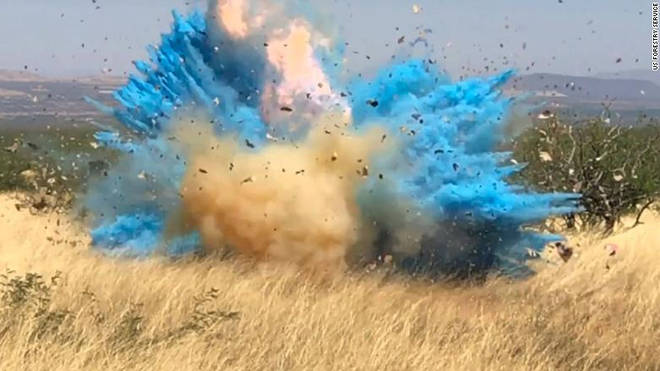 Dennis Dickey, 37, immediately reported the fire and insisted it was a "complete accident".
Last month he pleaded guilty to starting a fire without a permit and was sentenced to five years probation, a $100,000 fine and $500 a month restitution for the next 20 years.
A spokeswoman for the Arizona Department of Forestry and Fire Management said: "We pass that message on all the time -- one spark is all it takes, one spark is all it takes.
"It's true. When you see that video, you see how quickly the grasses catch on fire and how quickly it moves."
Gender reveal parties are supposed to announce a baby's gender before they are born.
More traditionally, people pop balloons or cut into a cake to reveal either a pink or blue colour.