British diplomat leaps into river to save drowning woman in China
16 November 2020, 15:48
A British diplomat in China has been praised for his 'heroic actions' after jumping into a river to save a drowning woman.
Stephen Ellison, the recently appointed British Consul General in Chongqing, was out for the day visiting a nearby tourist town of Zhongshan in Chongqing, south-western China, when a woman slipped and fell into water nearby.
61-year-old Mr Ellison, who is a champion triathlete, then leapt into the river to rescue the woman, who was already unconscious.
Videos posted on social media show the woman accidentally falling into the fast flowing water after standing on the slipper bank.
Onlookers can be heard shouting and screaming as the woman struggles in the water, but no one jumps in to help.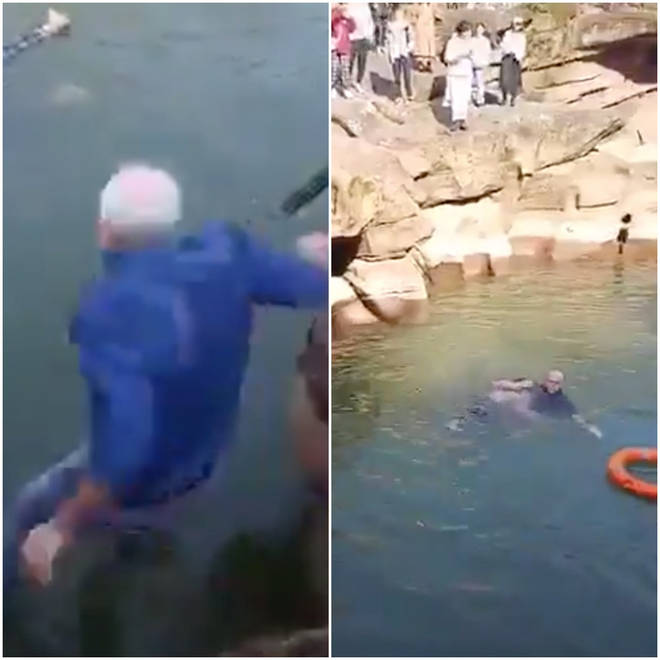 The video then shows a man kicking off his shows before jumping into the water and swimming towards the woman.
He grabs her and drags her to shore with the help of a ring thrown into the water by onlookers.
The British Consulate-General in Chongqing confirmed on Monday that the hero of the hour was Stephen Ellison.
Mr Ellison then gave the woman first aid with the help of bystanders, where she resumed consciousness and started to breathe.
She did not sustain major injuries.
According to reports, the woman was extremely grateful and has invited Mr Ellison to dinner with her family next weekend.
The video has attracted a wave of support for Mr Ellison, with the diplomat being branded a "hero".
The British embassy in Beijing tweeted: "We are all immensely proud of our Chongqing Consul General, Stephen Ellison, who dived into a river on Saturday to rescue a drowning student and swim her to safety."
Mission of China responded to the video clip with the caption: "Thank you Mr. Stephen Ellison!!"
Tom Tugendhat, Tory MP and Chair of the Foreign Affairs Committee tweeted: "Thank you Stephen Ellison, from all @CommonsForeign for your courage and reaction."
And the British Consulate in New York commented that it was a "heroic save from the Consul General."
According to the British Consulate-General in Chongqing, Mr Ellison has lived and worked in China for nine years.
Born in Newcastle, Mandarin-speaking Mr Ellison worked as an engineer for three decades before joining the Department for International Trade at the British Embassy in Beijing in 2014.