Six Trump campaign staff test positive for coronavirus ahead of 10,000 person rally
20 June 2020, 20:07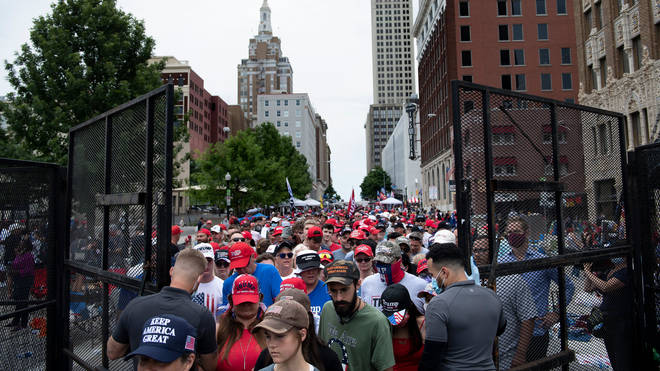 Six members of Donald Trump's campaign staff have tested positive for coronavirus before a 10,000 person rally in Tulsa.
The campaign's communications director Tim Murtaugh said "quarantine procedures" were immediately initiated and no staff member who tested positive would attend the event.
He said no-one who had immediate contact with those staff members would attend either.
Mr Murtaugh said campaign staff members are tested for Covid-19 as part of the campaign's safety protocols.
Campaign officials said everyone who is attending the rally will be given temperature checks before they pass through security.
LBC's Washington Correspondent Simon Marks said: "This is the exact sort of thing public health officials in Oaklahoma feared, six members of President Trump's team in Tulsa testing positive for coronavirus even before the rally begins.
"They're all now in quarantine. None of them, the campaign says, will be anywhere near the rally tonight.
"The President says his insistence of filling the arena to the rafters with his supporters is not a threat to public health. A claim that is increasingly skating on thin ice."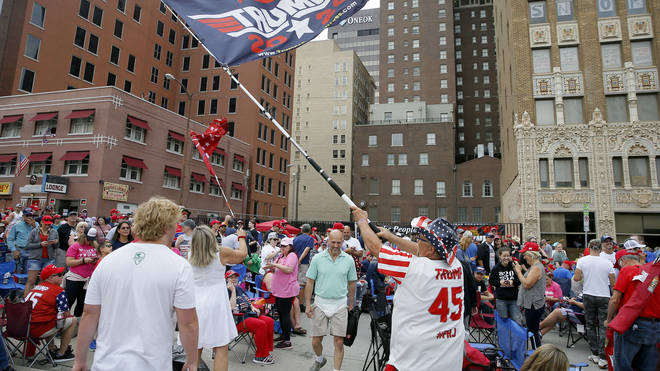 The rally is expected to be the biggest indoor event the country has seen since restrictions to prevent coronavirus from spreading began in March.
Tulsa has seen cases of Covid-19 spike in the past week, and the local health department director asked that the rally be postponed.
But Republican governor Kevin Stitt said it would be safe.
The Oklahoma Supreme Court on Friday denied a request that everyone attending the indoor rally wear a mask, and few in the crowd outside on Saturday were wearing them.