Donald Trump predicts US will have a Covid-19 vaccine by the end of the year
15 May 2020, 18:48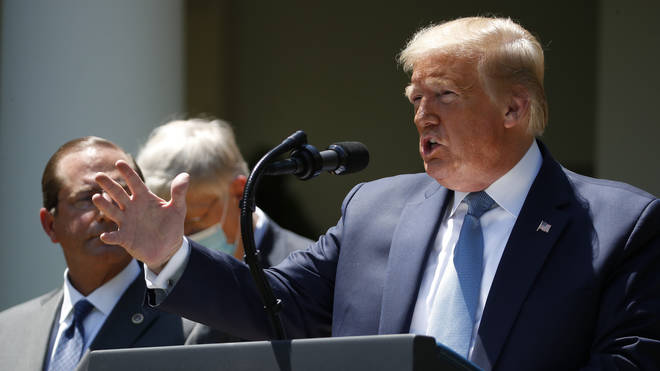 Donald Trump has predicted that the US will have a coronavirus vaccine by the end of the year.
At the unveiling of "Operation Warp Speed" in the Rose Garden of the White House, the US president said he would love to have a vaccine "prior to the end of the year".
Mr Trump said the US had whittled down a large number of vaccine projects to a shortlist of 14 and that efforts to secure the manufacture and distribution process were already underway.
Announcing the initiative, Mr Trump said: "This is unlike anything our country has seen since the Manhattan Project. You could really say that no one's ever seen anything like we're doing, whether it's ventilators or testing, nobody's seen like what we're doing now within our country since the Second World War.
"Its objective is to manufacture and distribute a proven coronavirus vaccine as fast as possible.
"We think we're going to have some very good results coming out and quickly.
"In addition, it will continue to accelerate the development of diagnostics and breakthrough therapies.
"The great national project will bring together the best of American industry and innovation, the full resources of the United States government, and the excellence and precision of the United States military."
Out of the 14 vaccines in focus for development, six to eight of those are expected to make it to subsequent rounds of trials.
Officials hope three to four vaccines will make it through final testing and be made available.
But this depends on how the testing and clinical trials proceed and how successful they are.
The president also said a lack of vaccine would not prevent the United States from reopening.
He said: "Vaccine or no vaccine, we're back. We're starting the process."
The president will also work closely with other countries, including people who are not allies - including China.
In terms of accessibility to the vaccine, Mr Trump said that cost will not be a barrier to access.
"The last thing anyone is looking for is profit," he said.
It was announced this week that the ex-head of GlaxoSmithKline's vaccines division, Moncef Slaoui, was to lead the effort alongside four-star Army General Gustave Perna.
In an interview with the Washington Examiner, Mr Trump said: "We're going to have a lot of good things happen. We have a lot of great people working on it.
"We're going to have a lot of good things, therapeutically and with a vaccine. And I think you'll have it by the end of the year."