Donald Trump mocked after bizarre tweet praising 'wonderful' US military dog
28 October 2019, 20:39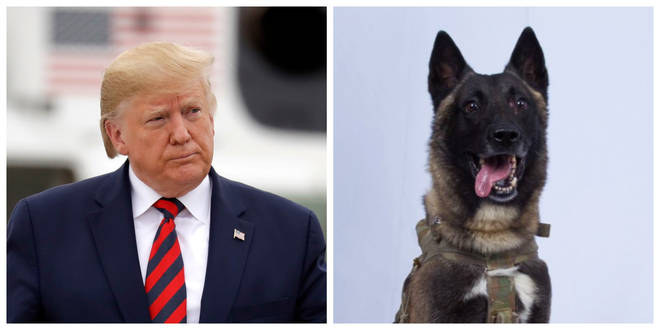 Donald Trump has been mocked online after posting a bizarre tweet about a "wonderful" US military dog which helped during the mission to kill Isis leader Abu Bakr al-Baghdadi.
He posted a picture of a Belgian Malinois which the President claims was part of the mission to kill the terror group leader in Syria.
On Monday evening, he tweeted: "We have declassified a picture of the wonderful dog (name not declassified) that did such a GREAT JOB in capturing and killing the Leader of ISIS, Abu Bakr al-Baghdadi!"
Contrary to the President's claims, it is believed the IS chief was killed in an explosion, reportedly setting off a suicide vest he was wearing, however this is yet to be confirmed.
We have declassified a picture of the wonderful dog (name not declassified) that did such a GREAT JOB in capturing and killing the Leader of ISIS, Abu Bakr al-Baghdadi! pic.twitter.com/PDMx9nZWvw

— Donald J. Trump (@realDonaldTrump) October 28, 2019
He is said to have been chased by military personnel and canine aides before the vest detonated.
Doubts were also cast over Mr Trump's claims that Baghdadi was "whimpering, crying and screaming" after it was revealed there was no way video footage would have captured the end of his life.
The President's strange tweet about the military dog prompted laughs from Twitter users, who said it was "a good thing he didn't reveal the [dog's] name, otherwise someone might have been able to recognise it."
Another added: "Pawsitively awesome story. We should paws & thank @realDonaldTrump for his dogged determination to fetch the terrorists - he might be a little ruff around the edges sometimes, but this is just another day in the oval paw-ffice for him."
While a third said: "Wait, I'm confused -if this dog is a hero, but Baghdadi "died like a dog", are dogs good or bad?"
Another dog which was wounded during the operation returned to duty on Monday, although military officials said botht the animal's name and breed were classified.
General Mark Milley told reporters on Monday that the animal "performed a tremendous service" in tracking down Abu Bakr al-Baghdadi in a tunnel beneath his compound.
Gen Milley said the dog was "slightly wounded" but is now recovering and has returned to duty at an undisclosed location.
He said the US is "protecting the dog's identity" by keeping any information about the canine classified for now.
Al Baghdadi led IS for the last five years, presiding over its ascendancy as it cultivated a reputation for beheadings and attracted hundreds of thousands of followers to a sprawling and self-styled caliphate in Iraq and Syria.
He remained among the few IS commanders still at large despite multiple claims in recent years about his death and even as his so-called caliphate dramatically shrank, with many supporters who joined the cause either imprisoned or jailed.
His exhortations were instrumental in inspiring terrorist attacks in the heart of Europe and in the United States.
The US military commonly uses the Belgian Malinois to guide and protect troops, search out enemy forces and look for explosives.
The breed is prized by the military for its intelligence and ability to be aggressive on command, said Ron Aiello, president of the United States War Dogs Association.
"That's the kind of dog you want to lead a patrol like this," said Mr Aiello, a former Marine dog handler whose organisation helps active duty and retired military dogs.
"They are the first line of defence. They go out front."