Eerie First Footage From Inside Italian Hotel Engulfed By Avalanche
19 January 2017, 17:07 | Updated: 28 October 2019, 15:26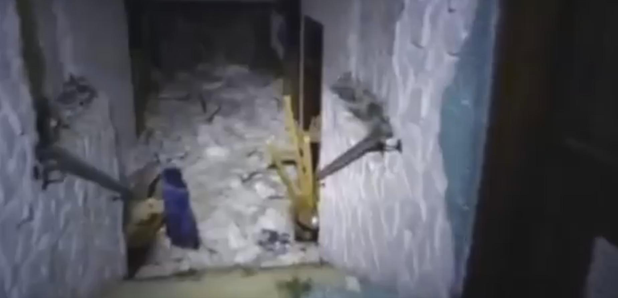 This is the first footage from inside the hotel in Abruzzo, Italy, which was hit by an avalanche yesterday (Wednesday).
Thirty people are missing, with several feared dead, after snow engulfed the four-star Hotel Rigopiano in the town of Farindola.
Three bodies have already reportedly been found.
Emergency services fought through snow storms to reach the hotel in the early hours of this morning (Thursday), but have warned that conditions were very difficult, and many remain missing.
This minute-and-half long footage, from Italian broadcaster Rai, shows snow and ice blocking stairwells from inside the hotel.
Le prime immagini diffuse dall'interno dell'hotel #Rigopiano #terremoto → https://t.co/ozadxFFuxa pic.twitter.com/ZVQFRzeaUY

— Rainews (@RaiNews) 19 January 2017
The eerie video shows empty rooms devastated by the snow, with debris piled high.
Italian news agency ANSA quoted a rescuer saying: "There are many dead."
Another rescuer said: "What is left of the hotel is in danger of collapse. We've called out but we've heard no replies, no voices."
The avalanche is thought to have been caused by series of earthquakes, which hit the region on Wednesday, including one with a 5.7 magnitude.
It has also been reported that family members and emergency services had received messages from those inside pleading for help.
Survivor Giampaolo Parete reportedly told doctors he escaped the avalanche because he left the hotel to fetch something from his car, but his wife and two children were still inside.