Halle shooting: Two dead in attack outside synagogue in Germany
9 October 2019, 12:53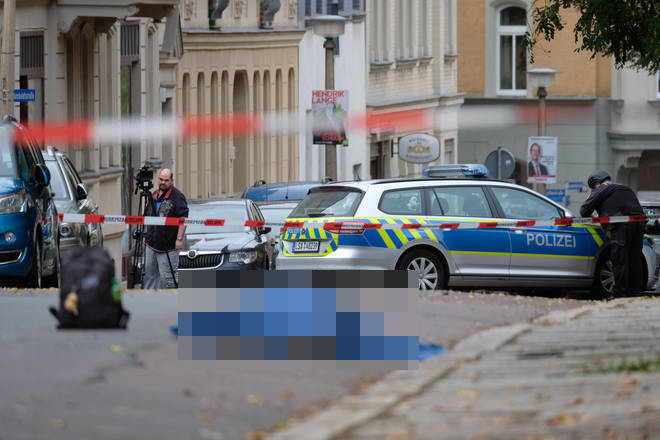 A man and a woman have been killed in a shooting in front of a synagogue in Halle, Germany.
A man was killed in a Turkish kebab shop, Halle police spokesman Ralf Karlstedt said.
The second victim was identified as a woman but the place where she was killed has not been confirmed.
Several shots were fired and the suspected assailants then fled in a car, police said in a tweet.
The Bild and Mitteldeutsche Zeitung newspapers reported that the shooting took place near a synagogue.
Footage has emerged on social media of the gunman getting out of a car and firing his weapon.
Local police say one person has been arrested, but still urged residents to stay in their homes.
They are now looking for other assailants, who fled the area in a vehicle.
A man interviewed on n-tv television said he had been in a kebab shop when he saw a man with a helmet and a military jacket fire shots into the shop.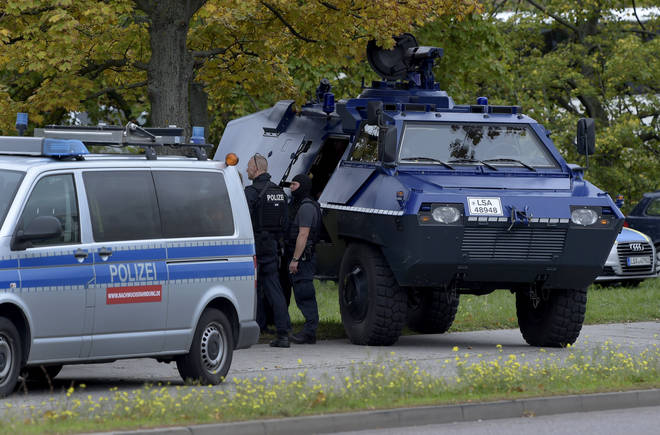 Pictures from the scene show a body lying in the street behind a police cordon.
News agency dpa reported the body was lying opposite a synagogue, about 30 metres from the building.
The shooting took place on the Jewish holy day of Yom Kippur.
A video clip broadcast by regional public broadcaster MDR showed a man in a helmet and an olive-coloured top getting out of a car and firing four shots from behind the vehicle from a long-barreled gun.
It was not clear what he was shooting at.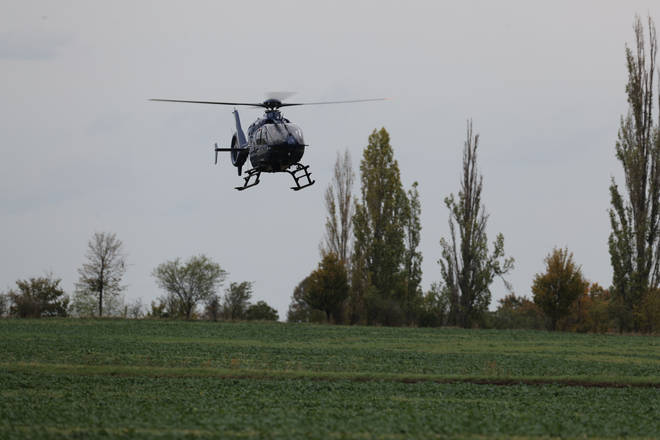 According to local reports, the attacker also threw a grenade into a cemetery nearby.
Chancellor Angela Merkel's spokesman, Steffen Seibert, lamented what he called "terrible news from Halle" but government officials said they had no information on the attack.
A police spokesman said: "Due to the current events in Halle, we increase the protective measures for the Dresden Synagogue and the Jewish cemetery."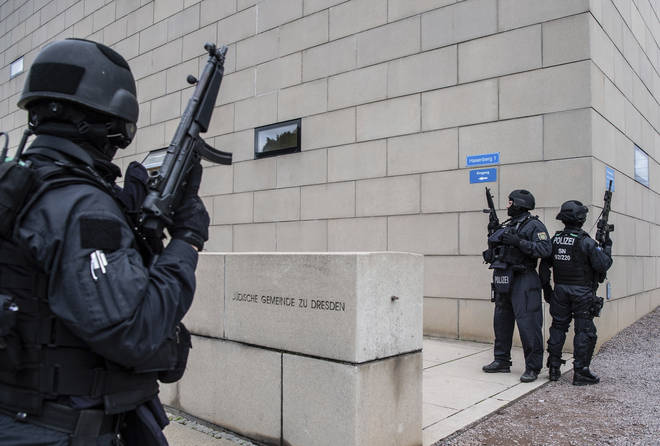 MP Dr Karamba Diaby tweeted: "Two people were in Halle killed."This is reported by the police hall. The alleged perpetrators are on the run. Please be careful. The police asks the population to stay in their apartments."
Police said shots were also fired in Landsberg, about 10 miles from Halle.
It is not clear whether this shooting was related to the shooting in Halle.