Hearthstone pro gamer banned after on-screen Hong Kong protest
8 October 2019, 14:48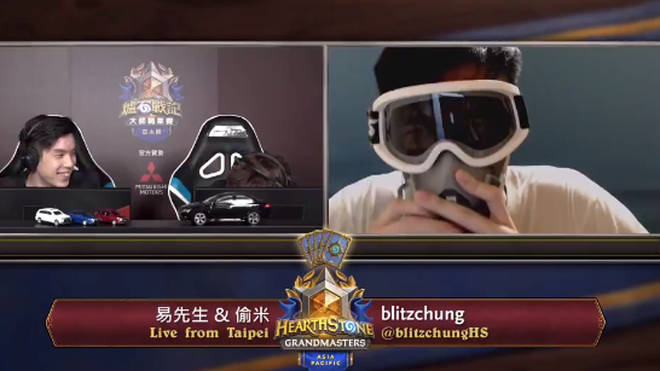 A professional gamer from Hong Kong has been banned from an online card game after he staged an anti-government protest during an interview.
Ng Wai Chung, who plays under the name Blitzchung, shouted "liberate Hong Kong, revolution of our ages" after a tournament of Grandmasters Hearthstone.
The gamer appeared on-screen in a gas mask to make his political protest in Chinese before the stream was quickly cut to an advert break.
Video game developer Blizzard said the ban was for breaking rules that players must not offend people.
Mr Chung has been banned from the game for a year and will not receive any of his prize money for the current season.
Speaking to Inven Global, Mr Chung said: "As you know there are serious protests in my country now.
"My call on stream was just another form of participation of the protest that I wish to grab more attention.
"I put so much effort in that social movement in the past few months, that I sometimes couldn't focus on preparing my Grandmaster match.
"I know what my action on stream means. It could cause me lot of trouble, even my personal safety in real life. But I think it's my duty to say something about the issue."
In a statement, Blizzard said: "Grandmasters is the highest tier of Hearthstone Esports and we take tournament rule violations very seriously.
"After an investigation, we are taking the necessary actions to prevent similar incidents from happening in the future.
"Effective immediately, Blitzchung is removed from Grandmasters and will receive no prizing for Grandmasters Season 2.
"Additionally, Blitzchung is ineligible to participate in Hearthstone esports for 12 months beginning from Oct. 5th, 2019 and extending to Oct. 5th, 2020.
"We will also immediately cease working with both casters.
"We'd like to re-emphasize tournament and player conduct within the Hearthstone esports community from both players and talent.
"While we stand by one's right to express individual thoughts and opinions, players and other participants that elect to participate in our esports competitions must abide by the official competition rules."