Hundreds of people flee their homes as bushfires sweep across parts of Australia
10 September 2019, 08:53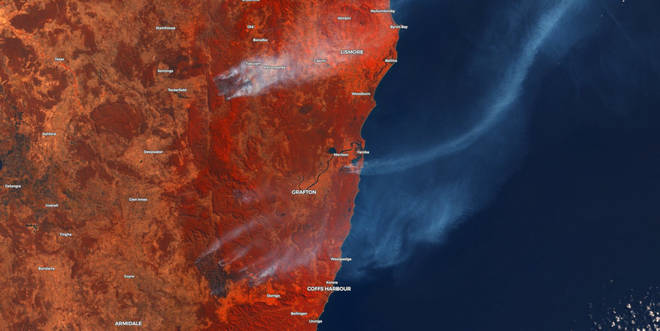 Hundreds of people in Australia have fled their homes in the eastern states as 140 fires ravaged parts of Queensland and New South Wales, officials have said.
The intense blazes are said to mark the worst start to the fire season on record for the state of Queensland.
There are 80 fires still burning across Queensland and 50 across New South Wales (NSW), with 21 fires uncontained. A total of 630 firefighters have been deployed across NSW.
About a dozen homes have been destroyed but officials have praised the "Herculean" efforts of firefighters.
Queensland Acting Premier Jackie Trad has urged residents to follow evacuation orders.
More than 400 people have been forced from their homes due to the coastal fire. Many are staying at emergency evacuation centres.
Ms Trad also noted the impact of climate change, including "increased temperatures", as having raised the fire risks for the subtropical state.
Some Australians have tweeted about the blaze:
Wind and Heat, makes the firefighter's job horrendous here in Australia..Thank you to Qld Fire Brigade for your quick response today...How quickly did things progress!! Great Job!! pic.twitter.com/jGz2VtivHT

— Fiona Coles (@lochlincoles) September 7, 2019
What is Australian bushfire season?
Bushfires are frequent events during the warmer months of the year, due to Australia's mostly hot, dry climate.
Each year, such fires impact extensive areas. On one hand, they can cause property damage and loss of human life.
Certain native flora in Australia have evolved to rely on bushfires as a means of reproduction, and fire events are an interwoven and an essential part of the ecology of the continent.
Traditionally Queensland has not had a recognised bushfire season because fires were considered to occur there less frequently.
In the drier southern states of New South Wales and Victoria, the season runs from October to April.