Iranian worshippers filmed licking holy shrines in defiance of severe coronavirus outbreak
2 March 2020, 09:45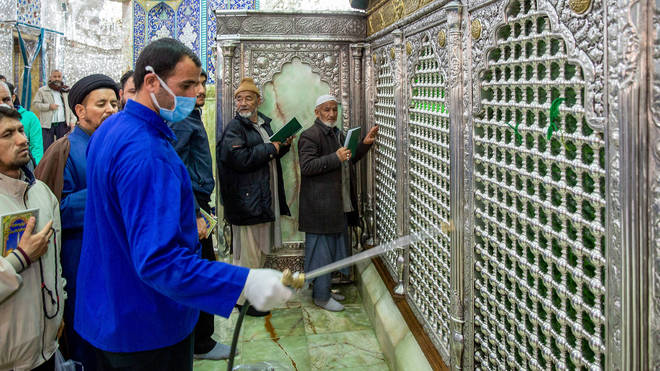 Iranian worshippers have been filmed licking holy shrines despite the severe coronavirus outbreak in the country.
Worrying footage shows visitors to holy sites saying they are "not scared" of the virus, readily licking the surface of them, prompting calls to close the sites while the outbreak continues.
One man seen kissing the walls of the Fatima Masumeh shrine in Qom said: "Stop scaring the people this much with coronavirus.
"Stop toying with people's beliefs, coronavirus is nothing in the Shia shrines."
A man was also reportedly arrested in Mashhad for licking a shrine.
While the city of Qom is the epicentre of #CoronaVirus in Iran, authorities refuse to close down religious shrines there.

These pro-regime people are licking the shrines & encouraging people to visit them.

Iran's authorities are endangering lives of Iranians & the world pic.twitter.com/s9o6zYhzNQ

— Masih Alinejad 🏳️ (@AlinejadMasih) February 29, 2020
Qom, an important Shiite pilgrimage site, has been at the epicentre of Iran's outbreak.
54 people have died in the country, with the number of confirmed infections at 978.
But there are continuing concerns that the official figures do not reflect the truth, with reports claiming at least 210 people had died there.
There are fears Nazanin Zaghari-Ratcliffe, the British-Iranian woman detained in an Iranian prison, has contracted the virus.
Her husband Richard said in a message posted on social media said: "Following today's phone call with Nazanin, the Free Nazanin Campaign can confirm that she (and we) now believe that she has coronavirus inside Evin prison, in part due to the lack of hygiene materials made available to prisoners.
"We are concerned by the prison authorities refusal to test her, and the wider suppression of coronavirus inside the Iranian prison system.
"We call on the UK government to insist that Nazanin is tested for coronavirus immediately, and is treated properly.
"We further call on the Prime Minister to take charge as part of his coronavirus efforts to ensure that British Iranians held hostage in Evin Prison are diplomatically protected."
Mrs Zaghari-Ratcliffe has been imprisoned in Tehran since 2016 after being convicted of spying, despite Iran failing to provide evidence for the charge.
Iranian state radio also said a member of a council that advises Supreme Leader Ayatollah Ali Khamenei was among those who had died after falling ill from the coronavirus.