Couple who got engaged in KFC given unbelievable wedding donations
8 November 2019, 18:58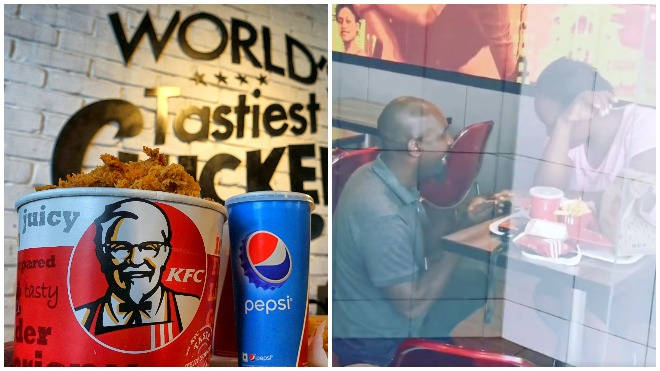 Audi, Huawei and Coca Cola are among several big name brands wanting to sponsor a South African couple whose KFC proposal video went viral.
KFC South Africa went above and beyond to track down the couple who got engaged in one of their outlets in the Vaal part of South Africa.
The heartfelt moment was caught on camera by a member of the public as crowds gathered round the happy couple's dinner table.
Hector and his bride-to-be Nonhlanhla were later flooded with support from several international brands and South African celebrities including oil giants Total, PUMA, DJ Fresh (Big Dawg) and luxury wedding designer Precious the Planner.
Social media came together to help the couple plan and organise their big day with one South African musician, Zakes Bantwini, even offering to perform at the ceremony.
KFC South Africa said they were meeting with the "beautiful couple" in order to bring them a "Streetwise Wedding".
Mzansi please help us find this beautiful couple, re batla ho ba blesser 😊 DM us any leads, there might be a Finger Lickin' Good surprise in it for you too. Batho ba Vaal re thuseng! We love love 😍❤️ #KFCProposal pic.twitter.com/6bj89dtj4j

— KFC South Africa (@KFCSA) November 7, 2019
South Africa, you guys are amazing! We've found the beautiful couple, and looks like we're having a #StreetwiseWedding y'all 🥳 We're meeting Bhut' Hector and his lovely bride Nonhlanhla we'll keep you posted. #KFCProposal

— KFC South Africa (@KFCSA) November 8, 2019
Coca Cola ZA congratulated KFC South Africa for finding the pair and said they would provide the soft drinks for the wedding day.
Yay for ♥️! @KFCSA 😍

Just like your chicken and our Coke® are the perfect pair, and we're all for bringing people together.

The soft drinks for the wedding are on us! We'll keep an eye on our inbox for all the deats. 💍💌#KFCProposal https://t.co/cXW8AjTtEU

— Coca-Cola ZA (@CocaCola_ZA) November 8, 2019
Total posted on Twitter saying they wanted to "get this love story on the road" and would "fuel" the pair's next adventure if they were found on social media.
Cricket South Africa also got in on the act and offered their help in searching for Hector and Nonhlanhla.
Huawei were moved by the moment and promised to send them "two devices to capture all their memorable moments."
Audi South Africa saw some of the honeymoon offers and suggested they would chauffeur the couple to their destinations.
Several South African celebrities also got on board, with Precious the Planner offering to plan, design and coordinate the wedding, DJ Fresh penning together a playlist for the day and musician Zakes Bantwini offering a free performance.
@KFCSA I will plan, design and coordinate the wedding pro bono and collab with one of the venues, dress & suit designers I work with if the brand covers hard costs I.e flowers, food, non-alcoholic beverages 🙏🏽 Newly Engaged, when is the wedding 🤷🏽‍♀️#KFCProposal #PreciousThePlanner

— Precious The Planner®️ (@preciousplanner) November 8, 2019
If I am available on the day, I will donate a DJ set for the reception!!! DM me!!

— DJ Fresh (Big Dawg) (@DJFreshSA) November 8, 2019
The moment has caught the eyes and hearts of South Africans far and wide, with one radio station tweeting that an anonymous listener gave the couple 10,000 Rand.
Among the other wedding gifts offered to the happy couple are:
- A couple of cases of beer from Castle Milk Stout
- 50,000 Rand (£2,600) from Capfin
- A casserole pot from Le Creuset
- Full page news coverage and a spa experience from Sowetan LIVE
- A salon style finish for the bride from TRESemmé
- Skincare pamper hampers from POND'S
- A honeymoon from Kulula Holidays
- Free data SIM cards from Telkom
- A weekend break at Sun City Resort
- Some wine from Siwela Wines
Their upcoming wedding bash will not be the pair's first. Hector Mkansi and Nonhlanhla Soldaat officially got married in 2012, however having little money meant it was not as special as the romantic husband hoped.
As a result, Hector brought Nonhlanhla to KFC and got staff to wrap up a ring in and bring it to their table.
"Then I went on my knees with everyone surrounding us," said Hector.
"I decided to come to KFC to give her a small surprise with a meal. I didn't tell family anything; wanted it to be a complete surprise with everyone."
Nonhlanhla said she was "totally surprised" by the engagement.
The couple have asked for some privacy while they "take it all in."
"Thank you South Africa. Your kindness has truly warmed us. We would have never imagined that our love story would have touched so many of you.
"While we appreciate the support, we ask that you please give us a moment to take it all in. We will definitely let you know about our plans around the wedding," they said.