Vienna attack: Four dead in 'Islamist linked' attack near synagogue
3 November 2020, 08:13
Four people have been killed and a further 14 injured after multiple gunmen opened fire on people having a last evening out in Vienna before a coronavirus lockdown.
A gunman is still being hunted by police after the 'Islamist-linked' attack near a synagogue, police have said.
Austria's Interior Minister Karl Nehammer said one of the suspects in the shooting "sympathised with the militant terrorist group IS."
Multiple attackers targeted six locations across the city with rifles, before police shot and killed one of them and arrested another.
A police officer is understood to be among those to have been seriously injured in the attack, which began at around 8pm local time on Monday evening.
Chief Rabbi in Vienna Rabbi Schlomo Hofmeister told LBC's Tom Swarbrick he saw two gunmen fire "at least a hundred rounds".
He added he was unsure the attack was being carried out on the synagogue, as the perpetrators were "attacking the guests of these bars and pubs" in the area.
"We are victims of a despicable terror attack in the federal capital that is still ongoing," Austrian Chancellor Sebastian Kurz said hours after the gunfire erupted.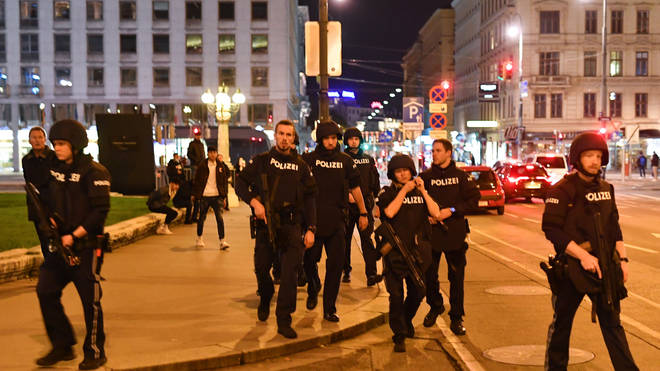 "One of the perpetrators was neutralised, but several perpetrators appear to still be on the loose," he said. "They seem to also, as far as we know, be very well equipped, with automatic weapons. So they were very well prepared. It's definitely a terror attack."
He praised police for killing one of the attackers and vowed: "We will not never allow ourselves to be intimidated by terrorism and will fight these attacks with all means."
The Austria Press Agency quoted ambulance service spokesman Daniel Melcher saying there were several dead and injured, al though he was unable to provide a number.
According to Christoph Mierau, spokesperson for the Vienna Health Group, 15 people have been take to various hospitals in the city.
Seven people are described as being "severely injured".
The APA also quoted Karl Nehammer, Austria's top security official, as saying that authorities believe there were several attackers involved and the incident is ongoing.
One person has so far been confirmed dead by police, who said one of the attackers was shot and killed by police.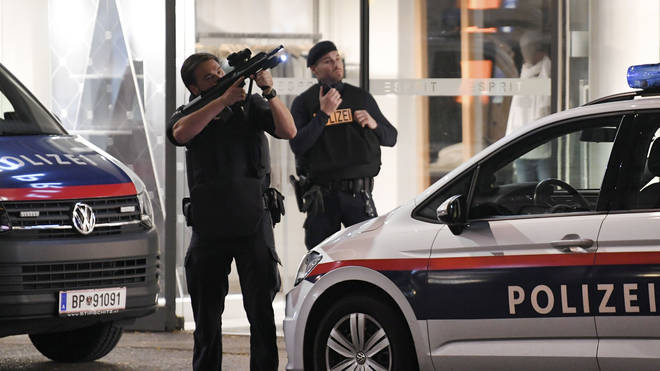 I am deeply shocked by the terrible attacks in Vienna tonight. The UK's thoughts are with the people of Austria - we stand united with you against terror.

— Boris Johnson (@BorisJohnson) November 2, 2020
Christoph Mierau, spokesperson for the Vienna Health Group said: "15 victims of the attack were brought to various hospitals in Vienna".
Officers are urging the public to stay away from InnnerenStadt where the incident is currently taking place.
Boris Johnson has tweeted his support for the people of Vienna, following the attack that has left at least one person dead and several injured.
The Prime Minister said: "I am deeply shocked by the terrible attacks in Vienna tonight. The UK's thoughts are with the people of Austria - we stand united with you against terror."
Home Secretary Priti Patel tweeted: "Deeply shocked and saddened by the incident that has taken place in Vienna this evening. My thoughts are with everyone who has been affected and we stand ready to support in any way we can."
Vienna police have urged people not to share video and photos on social media.
They said: "This jeopardizes police forces as well as the civilian population."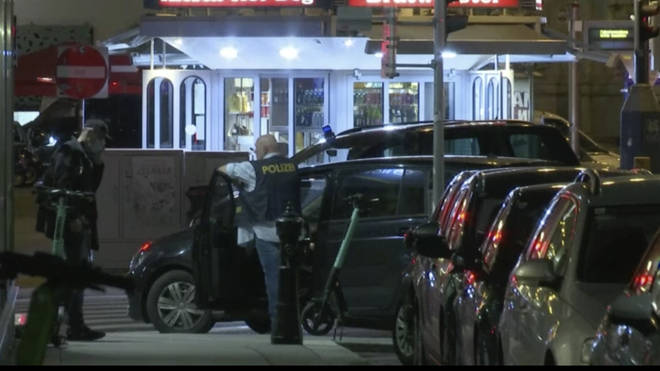 Austrian journalist Thomas Mayar said: 'One dead and several injured in an attack on the synagogue in Seitenstettengasse in the center of Vienna, says the Ministry of the Interior. Large-scale police operation. Stay in the houses. Shots on Schwedenplatz.' 
A tweet from the local police force said: "Around #InnnerenStadt there were several exchanges of fire. There are several injured people.
"We are on duty with all possible forces. Please avoid all public places in the city."
French President Emmanuel Macron tweeted that the French "share the shock and grief of the Austrian people hit by an attack tonight".
"After France, this is a friendly country that has been attacked. This is our Europe... We will not give in," he wrote.
France has endured three attacks blamed on Muslim extremists in recent weeks: one by a Pakistani refugee that injured two people outside satirical newspaper Charlie Hebdo's old headquarters, the killing of a schoolteacher who showed students caricatures of the prophet of Islam, and a deadly knife attack last Thursday in a church in the Mediterranean city of Nice.