Explosions and huge fires at Saudi oil facility 'after drone attack'
14 September 2019, 08:25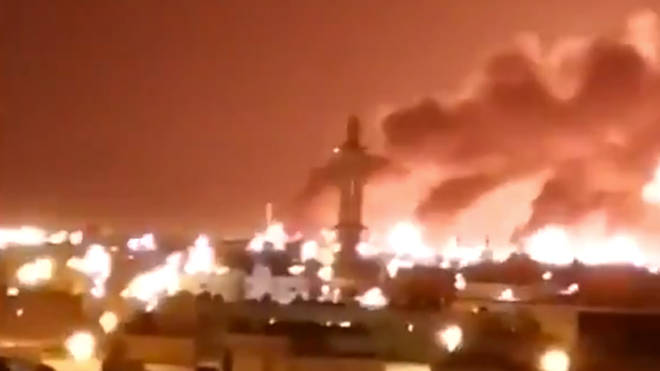 A series of explosions and large fires have rocked a major oil processing facility in the east of Saudi Arabia.
Shocking videos have emerged online that appear to show Buqyaq and the Khurais oil field, operated by Saudi Aramco, which is near Dammam in the kingdom's Eastern Province, completely engulfed in flames.
The video footage also appears to include the sound of gunfire in the background.
Smoke rose over the skyline and glowing flames could be seen a distance away.
The explosions at the Aramco oil fields in Saudi Arabia are looking bad. It's hard to see anything else but retaliation and escalation against the Houthis and Iran. pic.twitter.com/gvbJ3sW5Mw

— Oscar Jonsson (@OAJonsson) September 14, 2019
State media in Saudi Arabia did not immediately report on the incident.
The Dubai-based satellite channel Al-Arabiya first acknowledged the blaze, citing its own correspondent in the area.
The channel said the blaze had been brought under control, without elaborating or offering a cause.
Saudi Aramco describes its Abqaiq oil processing facility there as "the largest crude oil stabilisation plant in the world".
The facility processes sour crude oil into sweet crude, then later transports onto transshipment points on the Persian Gulf and the Red Sea.
Estimates suggest it can process up to seven million barrels of crude oil a day.
The plant has been targeted in the past by militants, and al Qaida claimed suicide bombers tried but failed to attack the oil complex in February 2006.
Buqyaq is more than 200 miles northeast of the Saudi capital, Riyadh.