Mitt Romney Dines With Donald Trump: The Internet Reacts Brilliantly
30 November 2016, 10:18 | Updated: 28 October 2019, 15:26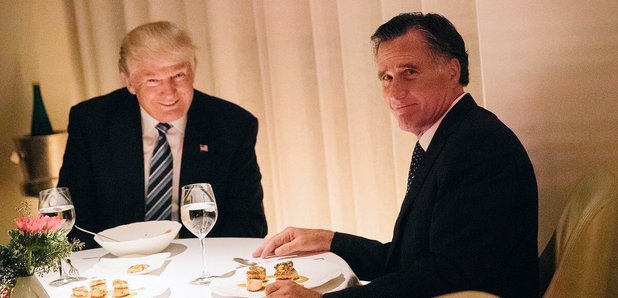 Last night, Mitt Romney enjoyed a $200 dinner with Donald Trump, having previously been very critical of him. The internet responded in glorious style.
Model Chrissy Teigen summed up many people's views by retweeting Mr Romney's previous criticism of the President-Elect.\
Hitting on married women? Condoning assault? Such vile degradations demean our wives and daughters and corrupt America's face to the world.

— Mitt Romney (@MittRomney) October 8, 2016
"But yes I'll have the crab cakes" https://t.co/1cV64eqMkX

— christine teigen (@chrissyteigen) November 30, 2016
British commentator Dan Hodges likened Mr Romney to one of our own MPs.
Mitt Romney is the new Andy Burnham.

— (((Dan Hodges))) (@DPJHodges) November 30, 2016
This funny tweet was one of the most retweeted about Mitt Romney.
*record scratch*

*freeze frame*

"Yup, that's me, Mitt Romney. You're probably wondering how I ended up here" pic.twitter.com/ppTrG9mnlh

— Josh Billinson (@jbillinson) November 30, 2016
And Mother Jones said the picture had echoes of Matthew 4:8.
"Again, the devil took Him to a very high mountain and showed Him all the kingdoms of the world and their glory." pic.twitter.com/BxfnBdIbuO

— Mother Jones (@MotherJones) November 30, 2016