Model says her nudes have raised $1m for Australian wildfires
7 January 2020, 09:11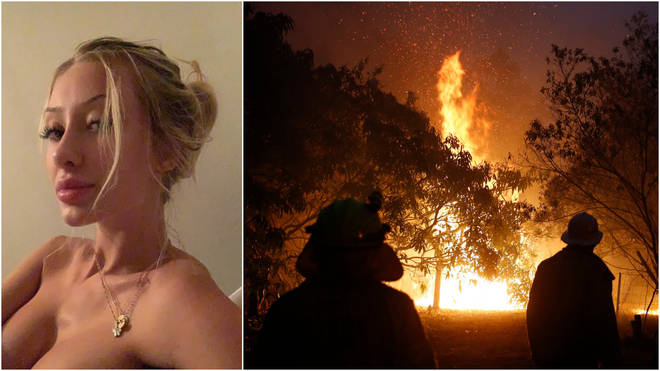 An Instagram model's unique fundraising style has fallen foul of the site's rules after she offered to send nudes in exchange for donations to Australia.
Kaylen Ward, AKA the Naked Philanthropist, promised to send nude photographs of herself to anyone who donated more than $10 to one of her chosen charities and provided her with proof.
She posted on Twitter saying she would send naked images "to every person who donates atleast $10 to any one of these fundraisers for the wildfires in Australia."
She promised: "Every $10 you donate = one nude picture from me to your DM. You must send me confirmation that you donated. "
The 20-year-old estimated she has raised more than $1 million for the victims of the on-going wildfire crisis in Australia, but she faced abuse online and her Instagram account has been closed for violating the site's terms and conditions.
In a screenshot posted by Ms Ward, Instagram said she had posted "sexually suggestive content," though the model denies she broke any rules. She's tried to reach out to Instagram but hasn't heard back.
"This account was disabled for violating our policies. Offering nude images is not allowed on Instagram," an Instagram spokesperson told BuzzFeed.
The model said her Instagram account was deactivated, "my family disowned me, and the guy I like won't talk to me all because of that tweet."
"But f*** it, save the koalas," she said.
The California resident told the Guardian newspaper she fell down a "rabbit hole" while reading about the wildfire crisis in Australia, which motivated her to do something to help.
"I donated $1,000 myself," she said. "I had a substantial amount of followers, maybe 30,000 at the time, and I thought that a lot of my followers would pitch in and send in some donations for the wildfires."
Her initial tweet has been retweeted 77,000 times and she has now started calling herself the Naked Philanthropist.
She later said she had "raised $1mil for Australia at the sake of my naked body being exposed on the internet to millions and millions of people."
She added it was a "scary feeling to be that vulnerable and exposed to the world." But that she "did it because I wanted to do something good."
Australia has been swept by wildfires which have raged out of control across parts of the country with at least 24 people killed and over 2,000 homes destroyed by the as blazes sweep areas,
Australian Prime Minister Scott Morrison said Monday that over 12 million acres have burned in Australia since the start of the fire season.