Pig forced to bungee jump before being sent to slaughter
20 January 2020, 14:43
WARNING: Images of animal abuse.
Theme park bosses in China are being criticised for forcing a pig to bungee jump as part of a cruel publicity campaign.
In the shocking footage, the poor animal is dragged to the 68 metre-high platform with its legs tied together and launched over the edge.
It can then be heard squealing in fear as human beings laugh and jeer at it.
Local media reported it was sent to a slaughter house shortly after its ordeal on 18 January.
Organisers called it the golden pig bungee jump, and used it to celebrate the opening of the new bungee in Meixin Red Wine Town theme park, Chongqing, south-west China.
The park was widely criticised after footage of the incident was published online, with many claiming the stunt was a "vulgar marketing tactic" and was a "form of torture" for the pig.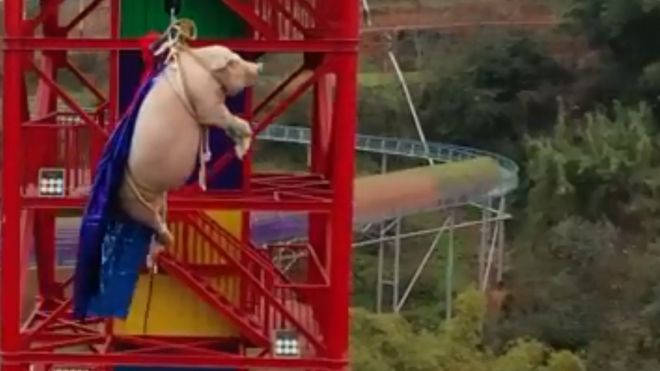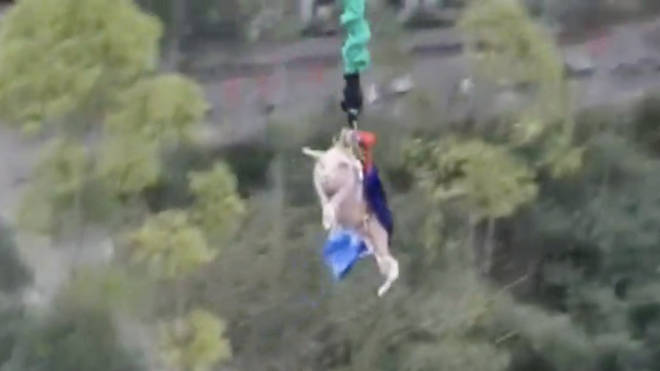 A spokesperson for the park saying it accepted the "criticism".
The statement said: "We sincerely accept netizens' criticism and advice and apologise to the public.
"We will improve [our] marketing of the tourist site, to provide tourists with better services."
Under current laws, animal cruelty is not illegal in China but there have been a growing calls for reform.