Russia orders troops into Ukraine on 'peacekeeping mission' as West reacts with sanctions
21 February 2022, 19:39 | Updated: 22 February 2022, 07:20
Boris Johnson will consider fresh sanctions on Russia early on Tuesday after Vladimir Putin sent 'peacekeeping troops' to Ukraine's pro-Russian break-away regions.
A Kremlin statement said Putin had told the French and German leaders he intended to sign a decree recognising the Donetsk and Luhansk areas as independent states.
Within hours of Putin's order, Reuters said five tanks were seen around Donetsk city, and though it was unclear if they belonged to the separatist rebels or the Russian military, sources indicated tanks had not been seen on the streets recently.
Ukraine's military reported on Tuesday that two soldiers were killed and 12 wounded by shelling in the east of the country in the last day, claiming separatists had unleashed bombardments in 84 instances across 40 frontline settlements.
Mr Johnson said he would explore sending further defensive support to Ukraine, at the request of the Ukrainian Government.
The Prime Minister will chair a COBRA meeting at 6.30am to discuss the latest developments in Ukraine and to coordinate the UK response including agreeing a significant package of sanctions to be introduced immediately.
And earlier, the UK's ambassador to the UN told Russia to "step back" from invading Ukraine.
Dame Barbara Woodward said Russia "brought us to the brink" as she spoke at an emergency meeting of the UN Security Council. She warned that the country's actions "will have severe and far-reaching consequences".
The US said it would impose sanctions in response to the decree recognising the break-away states while Russia's UN representative told the West to "think twice".
In a key speech on Monday evening, Putin blamed Nato and the US, saying they have turned Ukraine into a "theatre of war".
Under decrees signed by Putin, Russian troops will be sent into eastern Ukraine to perform "peacekeeping functions".
Reuters news agency reported that "columns of military vehicles and tanks" have begun arriving on the outskirts of Donetsk.
Moscow provided no details or date for any deployment, stating the order "comes into force from the day it was signed". 
The move prompted Boris Johnson to outline his "grave concern" at recent developments in the region, telling Ukraine President Zelenskyy that he believed "an invasion was a real possibility in the coming hours and days".
But Ukraine Mr Zelenskyy told his nation "we are not afraid of anyone".
Read more: Nick Ferrari Says: Boris is right, Freedom Day is a moment of "national pride"
Read more: Chris Whitty says people with Covid-19 should still self-isolate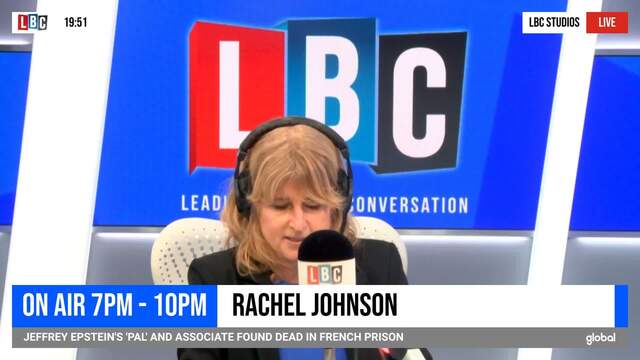 'Terrified' caller who lived through WWII broke down in tears
It is virtually certain the Security Council will not take any action or issue any statement because Russia has veto power.
Foreign Secretary Liz Truss confirmed tonight she had spoken with Ukraine's Minister of Foreign Affairs, Dmytro Kuleba, to discuss the sanctions the UK will be imposing on Russia "together with our allies".
She said her and EU Foreign Affairs representative Josep Borrell agreed the UK and EU will coordinate to deliver swift sanctions against Putin's regime and stand shoulder-to-shoulder with Ukraine".
Boris Johnson spoke to Ukrainian President Volodymyr Zelenskyy this evening to discuss the deteriorating situation in and around Ukraine.
A Downing Street spokesperson said: "The Prime Minister strongly condemned the Kremlin's decision today to recognise Luhansk and Donetsk as independent states, and said the move made the Minsk agreements and process unworkable."
He added that the UK was already engaging with partners on the issue and said the UK would raise it at the United Nations Security Council and Organisation for Security and Co-operation in Europe in the coming days.
The PM told President Zelenskyy that the UK had already "drawn up sanctions to target those complicit in the violation of Ukraine's territorial integrity, and that those measures would come into force tomorrow".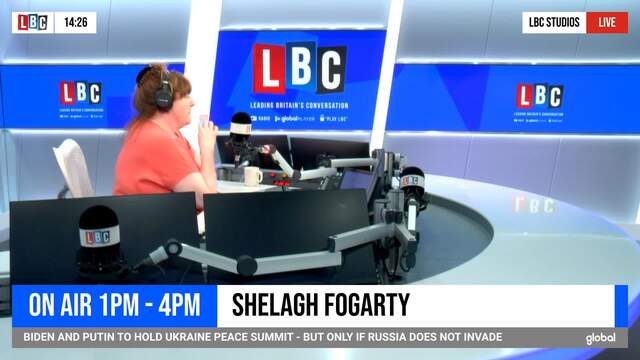 Putin sees Ukraine as 'fundamentally, spiritually Russia
Boris Johnson said at a press conference this evening that he considers the move an "ill omen" for the region amid heightened concerns of a Russian invasion.
In response the White House said Joe Biden will order fresh sanctions against Russia.
He said that recognising the self-declared republics in eastern Ukraine would be "plainly in breach of international law".
"It's a flagrant violation of the sovereignty and integrity of Ukraine," Mr Johnson said.
"It is a repudiation of the Minsk process and the Minsk agreements and I think it's a very ill omen and a very dark sign."
The announcement from Russia fuels Western fears that an invasion could come at any moment, with skirmishes in eastern areas of the country used as a pretext for an attack.
Mr Johnson said the UK and allies will discuss the potential implementation of sanctions against Russia.
"They will be triggered the first toecap of a Russian incursion or a Russian invasion.
"Plainly what has happened is extremely bad news and we will be urgently talking to our friends and allies all of whom are jointly signed up with us in this package of sanctions.
"It is becoming clear that we are going to need to start applying as much pressure as we possibly can. It is hard to see how this situation improves."
Mr Putin's statement follows televised appeals by separatist leaders.
They pleaded with Mr Putin to recognise them as independent states and sign friendship treaties envisaging military aid to protect them from what they described as the ongoing Ukrainian military offensive.
Ukrainian authorities have denied launching any offensive and have accused Russia of provocation amid intensified shelling along the line of contact.
The Kremlin initially signalled its reluctance to make the move that would effectively shatter a 2015 peace deal for eastern Ukraine that marked a major diplomatic coup for Moscow, requiring Ukrainian authorities to offer broad self-rule to the rebel regions.
However, Mr Putin argued on Monday that Ukrainian authorities have shown no appetite for implementing the deal.
The US and Russian presidents have tentatively agreed to meet in a last-ditch effort to stave off a possible invasion of Ukraine.
If Russia invades, as the US claims Moscow has already decided to do, the meeting will not happen.
However, the prospect of a face-to-face summit resuscitated hopes that diplomacy could prevent a devastating conflict, which would result in massive casualties and huge economic damage across Europe, which is heavily dependent on Russian energy.
Russia has massed an estimated 150,000 troops on three sides of Ukraine, a western-looking democracy that has defied Moscow's attempts to pull it back into its orbit.
Even as diplomatic efforts inched forward, potential flashpoints multiplied. Fighting escalated in eastern Ukraine, Russia said it had fended off an "incursion" from Ukraine - which Ukrainians officials denied - and the Kremlin also decided to prolong military exercises taking place in Belarus.
Moscow denies it has any plans to attack, but wants Western guarantees that Nato will not allow Ukraine and other former Soviet countries to join as members.
It has also demanded the alliance halt weapons deployments to Ukraine and roll back its forces from Eastern Europe - demands flatly rejected by the West.