Saudi Arabia: World's largest oil facility hit by drone attack
14 September 2019, 17:54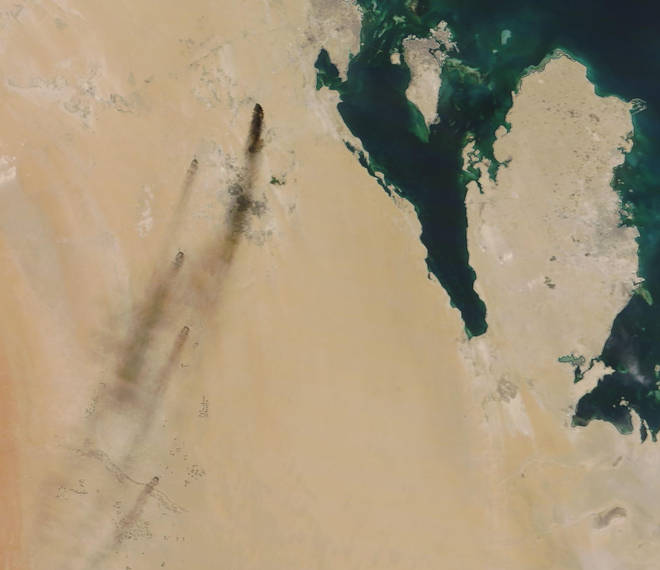 Drones launched by rebels have attacked the world's largest oil processing facility in Saudi Arabia and another major oilfield, sparking huge fires, reports say.
It remains unclear whether anyone was injured at the Abqaiq oil processing facility and the Khurais oilfield, or what effect the assault will have on global oil production.
Rising smoke from fires at the sites could be seen by satellites in space.
The attack by the Iranian-backed Houthis in the war against a Saudi-led coalition comes after weeks of similar drone assaults on the kingdom's oil infrastructure, but none of the earlier strikes appear to have caused the same amount of damage.
The attack will likely heighten tensions further across the wider Persian Gulf amid a confrontation between the US and Iran over its unravelling nuclear deal with world powers.
Initial reports of the assault came in online videos of giant fires at the Abqaiq facility, some 205 miles north-east of the Saudi capital, Riyadh.
Machine gun fire could be heard in several clips alongside the day's first Muslim call to prayers, suggesting security forces tried to bring down the drones in the darkness just before dawn.
In a short address military spokesman Yahia Sarie said the rebels launched 10 drones in a coordinated attack on the sites after receiving "intelligence" support from those inside the kingdom.
He warned that attacks by the rebels would only get worse if the war continues.
"The only option for the Saudi government is to stop attacking us," Mr Sarie said.
The rebels hold Yemen's capital, Sanaa, and other territory in the Arab world's poorest country.
Since 2015, a Saudi-led coalition has fought to reinstate the internationally recognised Yemeni government.
Saudi Aramco describes its Abqaiq oil processing facility in Buqyaq as "the largest crude oil stabilisation plant in the world".
The facility processes sour crude oil into sweet crude, then transports it onto trans-shipment points on the Persian Gulf and the Red Sea or to refineries for local production.
Estimates suggest it can process up to seven million barrels of crude oil a day. By comparison, Saudi Arabia produced 9.65 million barrels of crude oil a day in July.