Thousands evacuated as Philippines volcano spews ash
12 January 2020, 15:02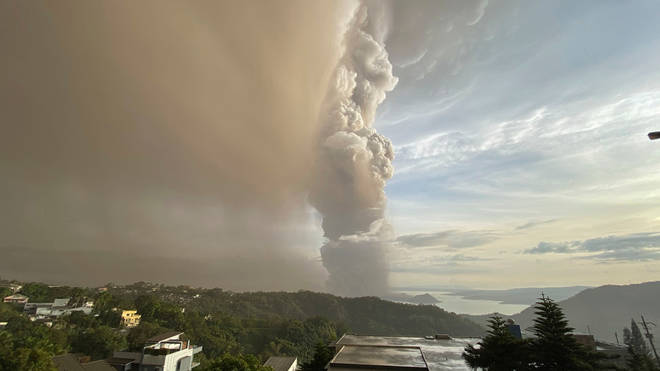 An active volcano in the Philippines has emitted a huge plume of ash, causing flights to be cancelled and 8,000 people to be evacuated from the area.
The Taal volcano, which is around 50 miles south of the Manila, reached up about 1km into the sky and could be seen far across the country.
Videos on social media show plumes of ash pouring into the air, with lightning flashing around the volcano.
Around 8,000 people have been evacuated from the "nearby area".
Rumbling sounds and tremors have been reported in the area surrounding Taal, which is the second most active volcano in the Philippines.
Two earthquakes of magnitudes 2.5 and 3.9 have already been recorded.
The Philippine Institute of Volcanology and Seismology also warned residents living nearby of a possible "volcanic tsunami", and raised the alert level to a level four, warning that a "hazardous eruption" was possible within weeks.
Flights from Manila airport have been suspended, according to a statement released on Twitter.
The Tokyo Volcanic Ash Advisory Center has predicted that the cloud of ash from the volcano could head northwards towards Japan.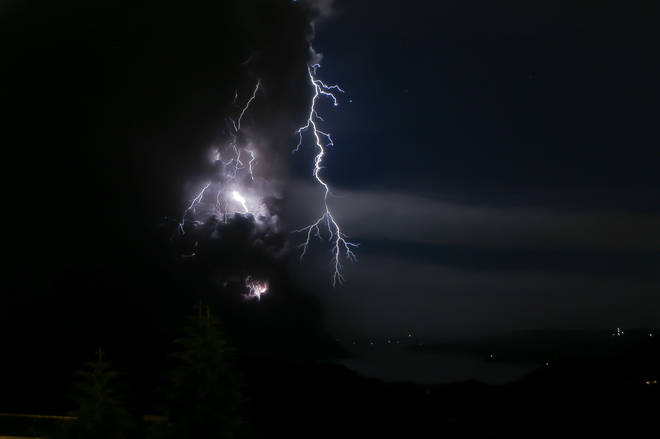 Ash has been falling in nearby areas and residents are being advised to wear masks.
Jon Patrick Yen, who is holidaying in the area, said: "We saw the volcano erupting. It rained and some small pebbles fell to the ground.
"I did not expect to see such spectacle."
Taal has recorded at least 34 eruptions in the past 450 years.