Three missing as devastating bushfires turn Australian skies orange
8 November 2019, 22:11
A record number of "unprecedented" emergency-level bushfires have ravaged the state of New South Wales, say Australian authorities.
Three people are unaccounted for and at least 100 homes have been destroyed in bushfires that swept across eastern Australia on Friday.
The Rural Fire Service said more than 30 people had been injured in the blazes, whilst nearly 80 fires continue to burn.
More than half of those remained uncontained as Australians awoke on Saturday, despite conditions easing overnight.
Strong winds and temperatures up to 35C in drought areas have seen the flames intensify and emergency warnings have been issued from the Blue Mountain's to the Queensland border.
People have been trapped in their homes with fire crews struggling to reach them due to the strength of the flames. Authorities deployed more than 1,000 firefighters and 70 aircraft to save "as many people as possible."
Shane Fitzsimmons, the Rural Fire Service Commissioner, said: "We are in uncharted territory. We have never seen this many fires concurrently at emergency warning level."
Mid-coast mayor David West, from Brimbin, told reporters he had never seen anything it in his area.
"I'm looking at a sky that's screaming danger, that's saying 'get out of my way, I'm going to kill you.' I know that sounds melodramatic but it's not. This is a fire that's devouring everything in its path," he said.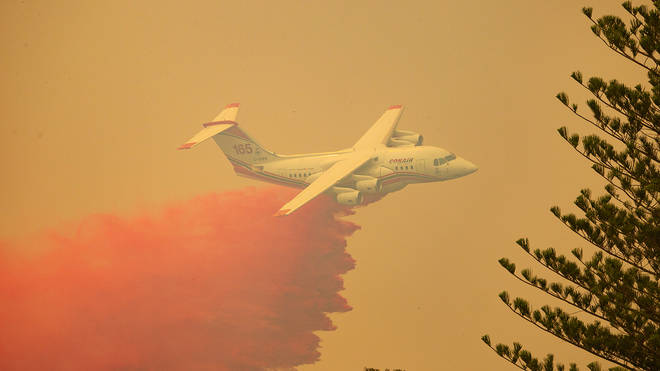 At the height of the devastation, 17 emergency-level fires were burning simultaneously across NSW with several others causing problems in neighbouring Queensland where evacuation notices were issued overnight.
Efforts to tackle the flames have been made easier as temperatures have fallen and humidity has risen, however the RFS said a threat is still in place and a forecast wind change could see strong winds add to the problem.
"We are still seeing erratic and dangerous fire behaviour across the remainder of fire grounds, which continues to pose a threat to homes," an RFS statement said.
In Port Macquarie, a city of 45,000 people on the NSW mid north coast, a red haze that engulfed the area was described as "apocalyptic".
NSW acting police commissioner Dean Smith confirmed people were missing in Rappville, NSW, but could not say exactly how many.
"At this point in time, we're unable to fully confirm those numbers. We do have a number of people who are unaccounted for. But we do not know what that actually looks like at this time," he said.
"We are certainly working closely with our resources to make sure that everyone is accounted for."
With the fires spread out across the state and rural roads difficult to access, authorities have faced an uphill struggle in tackling the blazes and ensuring people are safe or accounted for.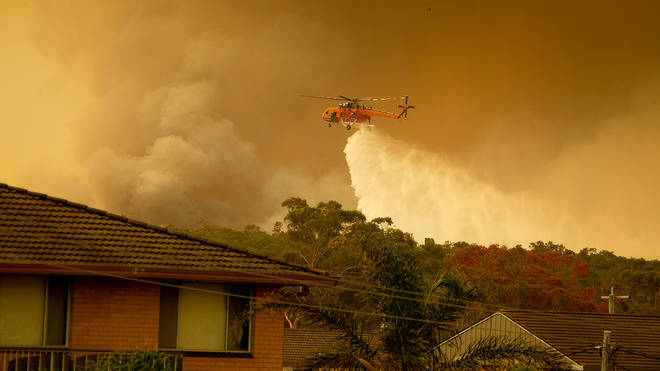 An RFS post on Twitter said that many people had called the emergency services for help, but the ferocity of the flames had prevented authorities from reaching everyone.
It said: "Today has been a difficult and dangerous day. Unfortunately, many people have called for help but due to the size and speed of the fires we couldn't get to everyone, even by road or helicopter. If you've been affected or know someone who has, use https://register.redcross.org.au."
Some people were told to find shelter from the infernos instead of fleeing as it was now too late to leave.
Harrington, Australia
Flames from a bushfire in Harrington, about 208 miles (335km) north-east of Sydney. Firefighters say they are in 'uncharted territory' as they struggle to contain dozens of bushfires
Photograph: Kelly-ann Oosterbeek/AFP via Getty Images pic.twitter.com/h1O9MVYEcx

— Pixiedust (@PixiedustJtT) November 8, 2019
Last month, two people from NSW died while trying to protect their home as crews have fought hundreds of fires since September.
A blaze last week destroyed 2,000 hectares of bush, which contained a koala sanctuary, with hundreds of animals feared to have died.
Western Australia also received warnings as bushfires are expected to hit the state across the weekend. Weather forecasters have predicted temperatures as high as 40C on Saturday.