US tries to find "common ground" for ceasefire as Turkish incursion into Syria continues
11 October 2019, 01:28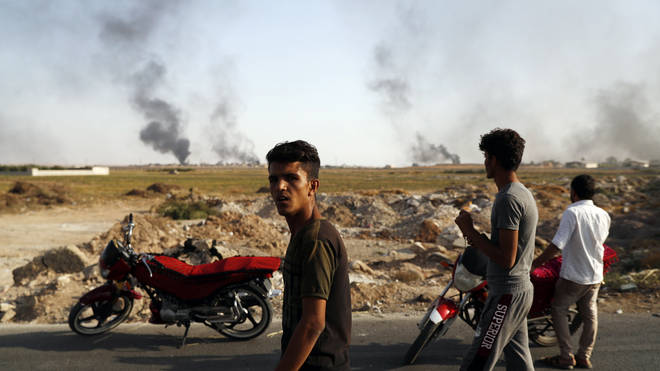 The US State Department has said it is trying to find "common ground" to come up with a ceasefire in north-eastern Syria.
Turkey's offensive against Kurdish forces there has raised fears about the future of thousands of Islamic State prisoners.
As we reported yesterday, two British Islamic State fighters - nicknamed the Beatles - have been taken into US custody.
Donald Trump has confirmed they were taken to a "secure location" by US forces.
One of their victims was the American journalist James Foley - and the family's lawyer Toby Cadman wants to know what will happen to them.
He said: "For victims of these crimes, one of the most important points in achieving closure, is justice."
He added, "these individuals have to be held accountable."
He told the press the biggest concern for Mr Foley's family was "that there will be a vacuum of accountability."
President Trump tweeted that Turkey is now "attacking the Kurds" who have been "fighting each other for 200 years."
In a follow-up Tweet he said the US had three options: " Send in thousands of troops and win Militarily, hit Turkey very hard Financially and with Sanctions, or mediate a deal between Turkey and the Kurds!"
We defeated 100% of the ISIS Caliphate and no longer have any troops in the area under attack by Turkey, in Syria. We did our job perfectly! Now Turkey is attacking the Kurds, who have been fighting each other for 200 years....

— Donald J. Trump (@realDonaldTrump) October 10, 2019
Turkey's foreign minister says Turkish troops intend to move 30 kilometres into northern Syria and that its operation will last until all "terrorists are neutralized," a reference to Syrian Kurdish fighters.
Meanwhile, aid agencies have warned of a growing humanitarian crisis in north-east Syria, as Turkey's offensive continues.
14 international aid agencies are urging parties to the conflict to fully respect International Humanitarian Law and ensure that they refrain from using explosive weapons in populated areas.
They warned there are at least 1,650,000 people in need of humanitarian assistance in north-east Syria, and aid agencies could be forced to pull out due to instability in the region.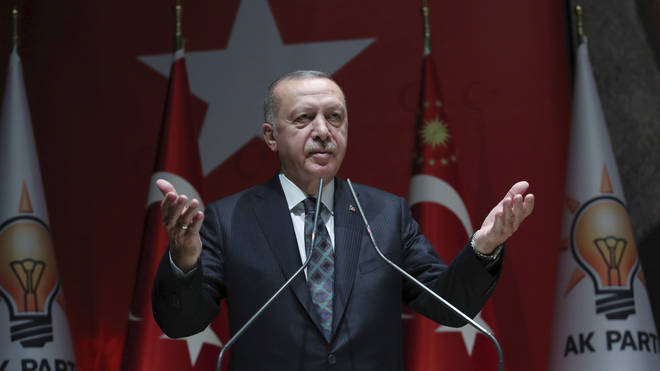 Turkish President Recep Erdogan says more than 100 "terrorists" have been killed so far - a term he uses to describe Kurdish fighters.
Erdogan also warned the European Union not to call Ankara's incursion into Syria an 'invasion,' and renewed his threat of letting Syrian refugees flood Europe should they continue.
The invasion followed President Trump's decision to remove US troops from the region - who were allies of the Kurds.
Alexander Norton, who fought in the Kurdish YPG said it was worrying that Mr Trump had said the US would cease to be involved.
"A NATO army is invading Syria, so he's [President Trump] taken one hat off and Turkey's coming in. He's still responsible for what's happening, as the leading force in NATO."