Vile attackers who shot and stabbed dolphins to death being hunted by police
12 February 2020, 15:25
WARNING - graphic image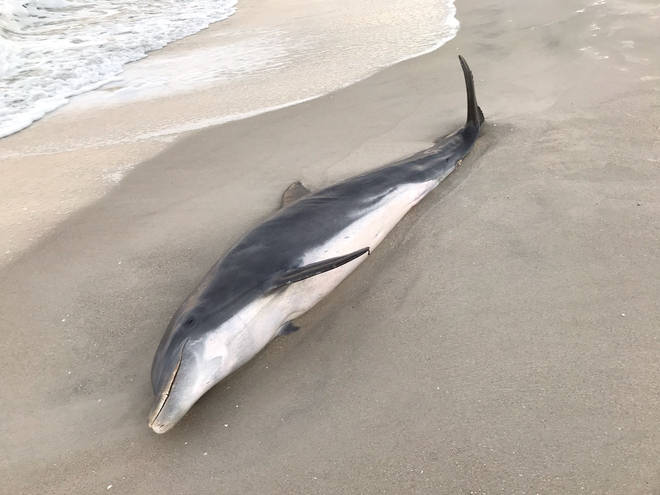 A $20,000 reward has been offered for anyone who can give information which leads dolphin killers who shot and stabbed the innocent animals to death.
One of the mammals was discovered off the coast of Naples, Florida, last week what seemed to be a bullet hole in its face.
It was was covered in wounds from a "sharp object", biologists from the Florida Fish and Wildlife Conservation Commission said.
Another dead creature was then found around 600 miles away on Pensacola Beach, with a bullet lodged in its side.
Since 2002, at least 29 dolphins have been found dead with horrific man made injuries such as gunshots, or have been impaled with arrows or fishing spears.
And in 2009, a fishing captain was jailed for making homemade pipe bombs and throwing them at the animals.
In the last year alone, four dolphins have been found dead.
It is believed many of these cases have been exacerbated by dolphins being unafraid of humans and learning to associate boats with being given food.
This can then put them at risk of of suffering fatal impacts from boat strikes, entanglement in or eating fishing gear.
The National Oceanic and Atmospheric Administration (NOAA) now says it is offering the $20,000 (£15,400) reward "for information that leads to a civil penalty or criminal conviction of the person or persons responsible" for the mindless killings.
A spokesperson said: "You can prevent harm to wild dolphins by not feeding or attempting to feed them."
Anyone who is caught harming dolphins could be punished with up to a year in prison for each offence and a fine of $100,000(£77,160).