Watch: Lucky Motorcyclist Ploughs Into Car, Then Lands On Boot
26 January 2017, 18:44 | Updated: 28 October 2019, 15:26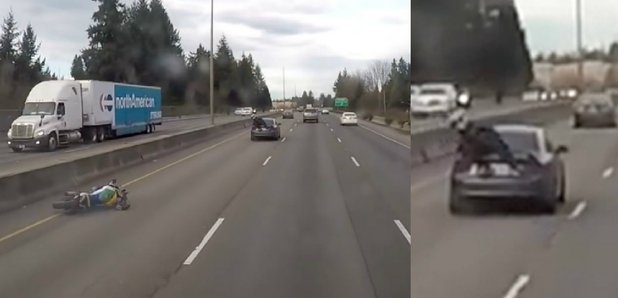 This remarkable video shows what happens when a motorcyclist travelling at speed hit the back of a car on a US motorway - just as its driver hit the brakes.
The video shows the car driving at considerable speed in the left hand lane, before it catches up to traffic and breaks hard.
The biker behind failed to notice in time and he ploughs into the back of the car.
The motorbike flies into the air, but remarkably, he somersaults and lands gently on the boot of the car in front, which drives off calmly with him safely sitting.
He was left shaken but fortunately not hurt - as you can see above.