White House slams impeachment witness Alexander Vindman despite still employing him
20 November 2019, 10:56
The White House has criticised impeachment witness Alexander Vindman, claiming they had "serious concerns about his judgment" – despite him still being employed by the government.
Trump officials issued talking points blasting Lt. Col. Vindman on Wednesday, the same day he testified in the House impeachment probe.
Mr Vindman is the top Ukraine expert on the National Security Council, and has previously served at US embassies in Kiev and Moscow.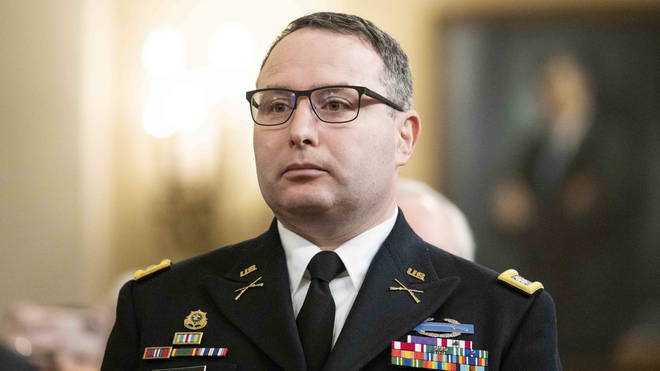 He testified during the inquiry that he was "alarmed" by US President Donald Trump's July call to Ukranian President Volodymyr Zelenskiy in which Mr Trump asked his counterpart to investigate his rivals.
In one document, the administration highlighted comments made by Mr Vindman's boss, National Security Council official Tim Morrison, who said that his supervisors had "serious concerns about his judgment" and suspected he might be leaking information to journalists.
They added: "Vindman has faced accusations of poor judgement, leaking, and going around normal procedures."
President Trump retweeted claims that Mr Vindman had "been offered the position of defense minister for the Ukranian government three times."
The White House also tweeted about Mr Morrison's comments and quoted Mr Vindman saying he had "never met the President."
The impeachment inquiry was launched following growing pressure from Democrats over allegations that the US President asked the Ukrainian leader to investigate the family of 2020 Presidential candidate Joe Biden.
Sources in the administration said Trump ordered his staff to withhold almost $400 million (£320 million) in military aid just days before Mr Trump's call to President Zelensky.
In the call, it is alleged Trump attempted to pressure Zelensky into probing Biden's son Hunter about his involvement in a natural gas firm in Ukraine.
The US President has admitted that he mentioned the Bidens during the call, but says it was only in relation to keeping Ukraine safe from political corruption.