Confirmed: Third Heathrow Runway Gets Go Ahead
25 October 2016, 07:24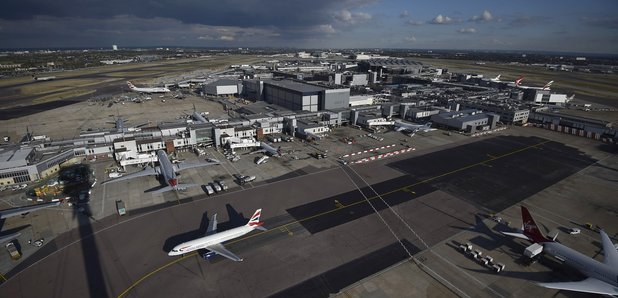 Heathrow has been given the go-ahead for a third runway, the government has confirmed.
The third runway option was the most expensive proposal and will take longer to build than the alternatives of extending one of Heathrow's existing runways or building a second runway at Gatwick.
However, the government say the third runway option offers the greatest benefits, including an extra £61 billion of trade and 77,000 local jobs created over 14 years.
The decision has already seen one significant political change with Zac Goldsmith resigning as a Conservative MP in Richmond Park in protest at the runway decision.
Iain Dale spoke to the Transport Secretary Chris Grayling this afternoon about the decision and quizzed the minister on two high profile opponents - Boris Johnson and Sadiq Khan - who could cause problems.
Chris Gralying on Boris Johnson and Sadiq Khan's Heathrow opposition
Chris Grayling says he respects Boris Johnson's opposition to Heathrow, but dismisses Sadiq Khan's flip-flopping on the issue.
03:00
Mr Grayling was conciliatory about Boris Johnson's opposition and tried to present a united party front on the controversial decision.
"We all know Boris's views, and I respect them. But today's decision in the airports committee in the government was unanimous."
The Conservative minister was more dismissive of the Mayor of London's opposition after he said he could challenge the decision in the courts.
"Sadiq used to be in favour of expanding Heathrow when he wasn't Mayor of London, people will draw their own conclusions from that.
"Actually that's why I respect Boris; for staying faithful to his views all the way thorugh."
While Mr Grayling insists the comittee was united in the decision to back the third runway, the same cannot be said for the Conservative party at large. Zac Goldsmith has resigned as a Conservative MP in his constituency of Richmond Park in protest at the decision, triggering a by-election.
The Mayor of London, Sadiq Khan, has released a statement criticising the decision, saying, "This is the wrong decision for London and the whole of Britain" and that "The government are running roughshod over Londoners' views".
Many others welcomed the news though. Virgin airlines owner Richard Branson said he's been campaigning for the expansion of Heathrow for 33 years. He said that decision showed that following Brexit, this decision sent a positive message to the world. Watch the whole interview here:
Iain Dale talks to Richard Branson about Heathrow 3rd Runway
Iain Dale talks to Richard Branson who welcomes today's decision to support the building of a third runway at Heathrow
07:26
The decision was expected to be highly contentious, but Transport Secretary Chris Grayling was bullish over the option taken, saying: "the step that government is taking today is truly momentous. I am proud that after years of discussion and delay this government is taking decisive action to secure the UK's place in the global aviation market – securing jobs and business opportunities for the next decade and beyond."
"A new runway at Heathrow will improve connectivity in the UK itself and crucially boost our connections with the rest of the world, supporting exports, trade and job opportunities. This isn't just a great deal for business, it's a great deal for passengers who will also benefit from access to more airlines, destinations and flights."
"This is an important issue for the whole country. That is why the government's preferred scheme will be subject to full and fair public consultation. Of course it is also hugely important for those living near the airport. That is why we have made clear that expansion will only be allowed to proceed on the basis of a world class package of compensation and mitigation worth up to £2.6 billion, including community support, insulation, and respite from noise – balancing the benefits and the impacts of expansion."
The third runway, along with increasing air traffic, will also take up a much larger area in south west London. The airport says it is committed to reducing noise pollution with restrictions on night flights and £700m budgeted for sound noise insulation for local residents.
Environmental and resident groups have vowed to continue fighting any plans.
LBC WILL BRING YOU LIVE COVERAGE OF THE DECISION - LISTEN
Any vote on the plans, however, has been delayed for at least a year, staving off mutiny by Tory MPs until a later date.
Closer to home May faces opposition from foreign secretary Boris Johnson, who has previously said he will 'lie down in front of the bulldozers' to stop Heathrow being built. Boris, along with other members of the cabinet, have been granted a 'derogation' allowing them to oppose a new runway, with some conditions attached.


Latest on LBC
Comments