The Moments Of 2016, As Chosen By LBC's Presenters
31 December 2016, 11:30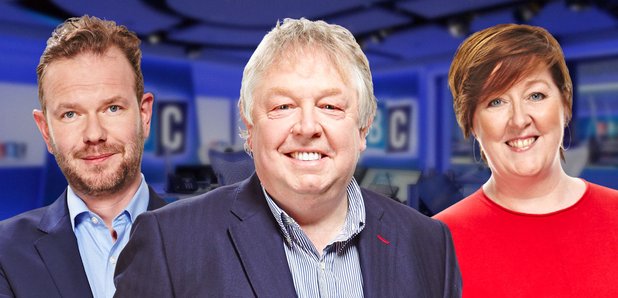 Brexit, Trump, celebrity deaths: 2016 has been a truly remarkable year. Here are the most memorable moments, chosen by the LBC presenters.
Nick Ferrari
A Corbyn Tribute: Nick Ferrari Presents His Show Sitting Down
This was the memorable moment when Nick Ferrari presented his LBC show from the floor of his studio.
07:02
After Jeremy Corbyn's claim he had to sit on the train floor was disputed, Nick decided to present his show while sitting on the floor too. Like Corbyn, there was also a spare seat available for Nick if he wanted it.
James O'Brien
James O'Brien On Amber Rudd's Foreign Worker's Policy
Discussing Home Secretary Amber Rudd's push to make firms list foreign workers, James O'Brien's startling point will stop you in your tracks.
02:05
When Amber Rudd proposed asking companies to list their foreign workers, James O'Brien noticed something truly frightening about her speech.
Shelagh Fogarty
Shelagh's Emotional Challenge To Hillsborough "Cover Up" Cop
Former top cop Sir Norman Bettison is challenged by Shelagh Fogarty over his new book, which he says is an attempt to clear up Hillsborough "smears". The families say it's more lies.
03:03
Shelagh reported on the Hillsborough disaster in 1989 and her interview with police chief Norman Bettison was a masterclass in forensic questioning.
Iain Dale
This Spanish Woman Was Very Sweet - And Her Story Made Iain Feel Ashamed
02:59
An illuminating call from a charming Spanish woman causes Iain Dale to reflect on what it's like to have been a Leave voter in 2016 as hate crimes shot up.
Maajid Nawaz
Maajid Explains What Liberals Can Do After Trump
Maajid Nawaz has some suggestions for what liberals can do after the election of Donald Trump.
01:29
Maajid had a memorable take on the election of Donald Trump, telling Liberals it is time for the left to stop sneering and start reconnecting with the public mood.
Clive Bull
Labour MP Comes Unstuck Over Immigration Policy
Labour's Shadow Minister Without Portfolio Andrew Gwynne says Ukip's immigration policy is a threat to the British way of life. So surely he can give Clive at least one Labour policy...
03:38
Clive has invited Labour's shadow cabinet on to his show many times - and has been left exasperated by their inability to answer any questions.
Ian Collins
An unexpected defence of Donald Trump
Mexican caller, Josephine, tells Ian Collins she was "delighted" when Trump announced that he would build a wall
02:09
In an extraordinary year, Ian chose this extraordinary call: from a Mexican in favour of Donald Trump's wall.
Stig Abell
Stig Abell Left Completely Exasperated By Anti-Gay Caller
Stig Abell left completely exasperated by this religious caller's argument against homosexuality.
04:57
In September, senior figures in the Church of England called on the church to change its "archaic" position on homosexuality. The debate about the issue prompted this call from Grace that left Stig more than a little exasperated.
Latest on LBC
Comments