Salmond: Bad Sign That EU Giving Britain Cold Shoulder Already
15 December 2016, 17:56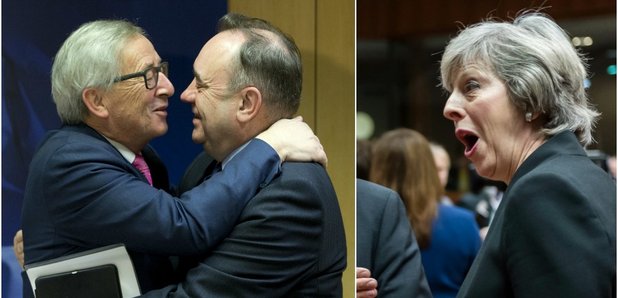 Alex Salmond says that Theresa May's very awkward interaction with other EU leaders is proof that the Brexit talks are going to be very frosty indeed.
This video of May looking around for someone to talk to, as other EU leaders embraced each other warmly, has gone viral today.
Awkward Footage Shows Theresa May At EU Summit
00:10
Joining Ian Payne on LBC this evening, Alex Salmond said it was an unprecedented moment in any EU talks he'd been to.
"These are people who are really polite. I don't think I've ever met an EU leader who's not polite and convivial.
"I've never seen anything like nobody wants to speak [to the Prime Minister]."
Salmond: Look Out Theresa, The EU Is Already Frosty To UK
Alex Salmond says the awkward moment Theresa May experienced at EU talks is just a sign of things to come.
01:30
"This is very much that Britain is isolated. And this is before the negotiations start! Think what they're going to be like once they start negotiating."
Salmond then offered May some tips for her next EU meeting and how to avoid looking so ill-at-ease: "Take in a crossword puzzle!
"Always have something to fall back on."
Latest on LBC
Comments