Jo Cox Widower Describes Beautiful Song Son Wrote After Mother's Murder
12 June 2017, 13:31
The widower of Jo Cox has told LBC how his young son composed his very own song in order to help his family cope with the loss of their mum.
Jo Cox Widower Explains Son Wrote Song To Cope With Loss Of Mum
00:02:51
Brendan Cox joined James O'Brien in the studio on Monday - almost a year after the mother of two and Labour MP was murdered.
In the moving interview, Brendan explained to the LBC presenter how his son and daughter had been coping with their loss.
"The advice was to be as honest and open with them as you can be," Brendan said of how he told his children the tragic news.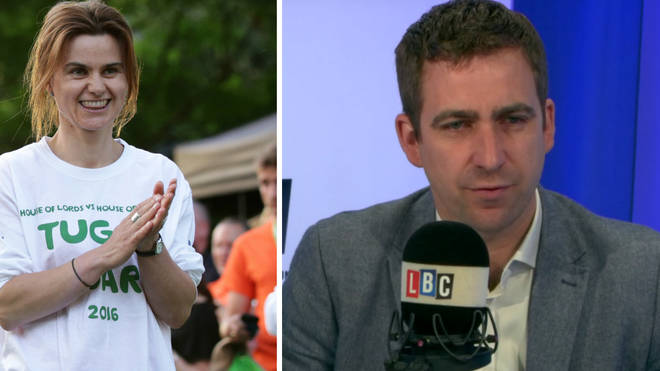 "That night when I was putting them to bed, which was very difficult because they were very upset and Lejla, who was three at the time, was just in floods of tears and Cuillin, who was five, was really thoughtful and reflective.
"He said: 'I've got a song for mummy', and then he sang this song which was just incredibly beautiful - there was also a brutality to it as well because of those words were coming from a five-year-old."
A huge community celebration will begin on Friday as Britain unites to honour the memory of Jo Cox - who was just 41 when she was killed.
The Great Get Together will see more than 100,000 events being organised over the weekend up and down the country.
It is inspired by the Labour MP's maiden speech to Parliament in 2015 when she said: "We have more in common and are far more united than that which divides us."
Latest on LBC
Comments
The Best Of James O'Brien
If You Like James, You'll Also Like...