The Man Who Was Speaking To His Mum As She Died In Grenfell Tower
12 July 2017, 12:48
Emotional Moment Shah Listens Back To His Grenfell Call
00:03:50
There wasn't a dry eye in the house as James O'Brien listened back to the heart-breaking call he received from Shah, who was on the phone to his mother as she died in the Grenfell fire.
James said the call was one of the most memorable he's received in all his time working for LBC.
Shah's mother and aunt died in the fire four weeks ago after flames engulfed her 17th floor flat.
Emotions got the better of both of them as they listened back to the call he made to tell the story on LBC.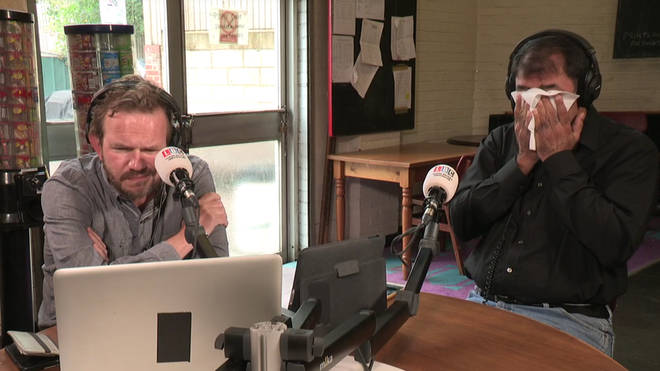 In the call, Shah said: "The smoke got them. And I could hear them and I could hear her wheezing. She couldn't talk any more."
Here is Shah's original call.
Heartbreaking Call From A Man Who Lost His Mother In Grenfell Fire
00:04:17
LBC listeners were also in tears, with many posting tweets about the emotional moment.
@mrjamesob Please give that man a hug from me. So sad listening to his story @LBC

— chel simo (@cheljsimo) July 12, 2017
I've listened to LBC since 1973. I think this is the most distressing and memorable call ever. #GrenfellTowerFire Bless him.

— Annie (@toady) July 12, 2017
.@mrjamesob anyone with any doubt as to the pain #GrenfellTower residents are experiencing, switch on .@LBC and listen to this broken man.

— Zakariah Hall (@ZakariahHall) July 12, 2017
Powerful testimony from Grenfell survivors, volunteers and witnesses on @LBC this morning. Great job @mrjamesob

— Andy Seaman (@andy_seaman) July 12, 2017
Latest on LBC
Comments
The Best Of James O'Brien
If You Like James, You'll Also Like...