Bishop Michael Curry Labels Trump Policies "Inhumane"
21 June 2018, 07:56 | Updated: 21 June 2018, 20:11
The Bishop who shot to fame when he starred in the Royal Wedding has told LBC that some of Donald Trump's policies are "inhumane" and "un-Christian".
The Most Reverend Bishop Michael Curry was saddened that passages from the Bible were used by the Trump administration to justify the separation of children from their parents at the Mexican border.
And he had some very strong words for the President's policies, saying they lack humanity and decency.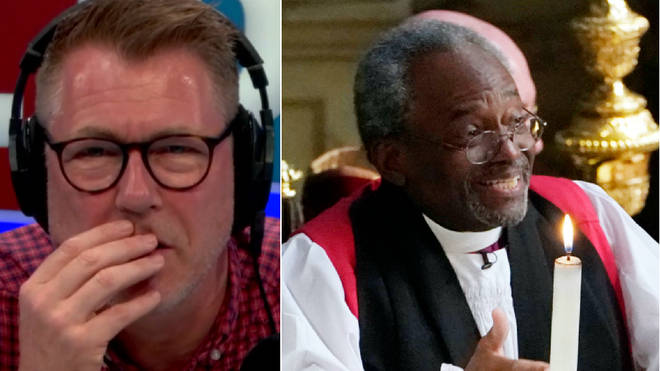 Speaking to Ian Collins on LBC, Bishop Curry said: "At one point, Romans 13 was invoked by the Attorney General to justify the use of this power by a government.
"Don't bring the Christian scriptures into this. The Christian scriptures call for humanity. Jesus said 'Love your neighbours as yourself'. This didn't look like love."
Romans 13 states: "Let every person be subject to the governing authorities; for there is no authority except from God, and those authorities that exist have been instituted by God." The use of the passage has been described by scholars as "an abominable misuse of the Bible".
Bishop Curry wouldn't comment on President Trump, but did add: "Many of the policies of the President lack humanity, do not serve the issues of justice and fairness and decency in society, failure to take concern and stay with the rest of the world in terms of climate change and cleaning the environment.
"Many of the policies he has been a part of I have to oppose on the grounds of love.
"I'm going to pray for the President, but I'm also going to speak and act when I disagree with him."