Archie's urgent campaign: Family of four-year-old rally around to raise £154k for life-saving cancer treatment
23 September 2023, 07:35 | Updated: 25 September 2023, 14:03
The family of four-year-old Archie Tzeng-Venn have "rallied around" to try and raise a staggering £154,000 so he can enrol on the DFMO study in Charlotte (USA), which they hope will keep his cancer away once he has completed his frontline treatment in October 2023.
Difluoromethylornithine (DFMO) is a drug that has shown promise as a treatment option for high-risk neuroblastoma. Neuroblastoma is a type of cancer that forms in immature nerve tissue in the adrenal glands, neck, chest, or spinal cord.
Archie's cancer presents in bruises and tumours. "The tumour started in his abdomen and it went all the way up his spine, across his neck, his skull - it took his eyesight in one eye, most of his eyesight in his other eye, his hearing and it also destroyed his vocal cords," Archie's father Marcus told LBC.
READ MORE: NHS to scrap two-thirds of cancer targets in bid to speed up diagnosis and save lives
At just two-years-old the cancer had consumed Archie's small body, his father described it like some one had put a "full-stop" on him.
"The real scandal is how many children are trying to raise crazy amounts of money for treatment, across England - it's insane," Marcus said.
The drug that Archie is trying to access is "20 odd years old," he explained.
"We do have access to it in the UK. If you are a woman with facial hair you can get that drug in the form of a cream. It's insane."
Marcus referred to Vaniqa cream which is a topical treatment given to women to reduce symptoms of hirsutism (unwanted facial hair). The topical DFMO is readily available in the UK to purchase over the counter or to be prescribed by your GP.
LBC contacted the Medicines & Healthcare products Regulatory Agency (MHRA) for some insight into why the drug is only available in the UK for this cosmetic reason. Julian Beach, MHRA Interim Executive Director for Healthcare Quality and Access, said a case to use DFMO in this way hasn't been brought to them yet.
"We are committed to providing safe, timely access to treatment for patients in the UK, and prioritise access to potential life-saving treatments where possible.
"Before DFMO can be approved in the UK to treat neuroblastoma, an application must be submitted to the MHRA with evidence supporting this use. Once received, we conduct a thorough review of the data in the shortest time possible.
"No medicine will be approved unless it meets our stringent standards of safety, quality and effectiveness," Mr Beach said.
You can donate to help Archie reach his target to go the USA and be a part of the DFMO trial here: Archie's Urgent Campaign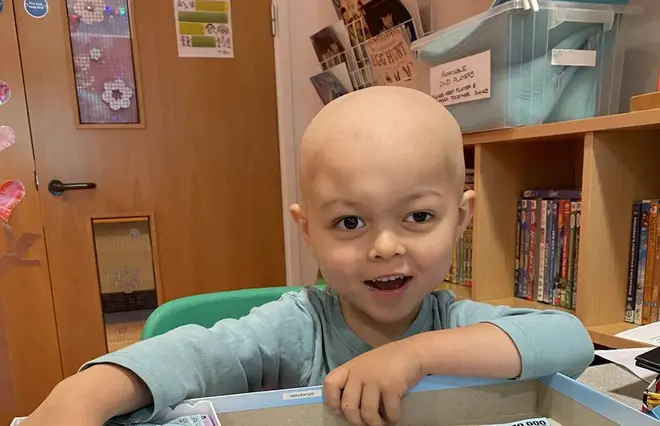 Getting Archie's diagnosis was a real struggle as he was routinely turned away from hospital, his father explained. After looking at his cancerous abscesses one GP assumed he had just "bumped his head".
"The last time I took Archie to a GP he had a large mass on the side of face," Marcus said. "He was blind, he couldn't hear, he had a very good vocabulary for a three-year-old and he'd gone down to grunts.
"He couldn't stand up, he wasn't eating. His GP told us he'd banged his head. He missed the point that Archie couldn't see."
READ MORE: 'You've given me the gift of life': Cancer patient, 29, thanks LBC listeners who raised tens of thousands for treatment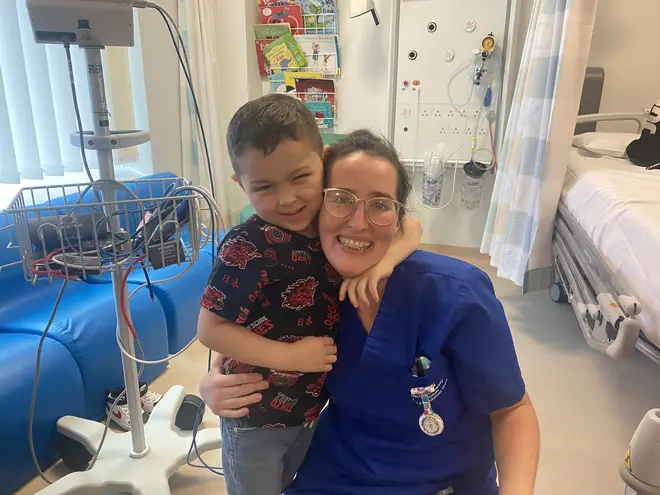 Archie's dad said the doctor examined him for "less than 10 seconds" and determined that he was "fine".
Four days after the GP visit, a doctor in A&E took Archie for a precautionary CT scan and from that, his father said, it was "blue lights" to Oxford.
NHS treatment of Archie has been described as "fantastic", with Marcus detailing how "even when there were strikes doctors and nurses would come in to look after the children on Archie's ward".
However, Marcus described "getting past the front door" as the "worst experience" he's ever had.
In the centre of the GP and A&E frenzy was Archie, who stayed resilient and joyful. Over the Christmas period last year Archie was forced to be in an isolation room for seven weeks.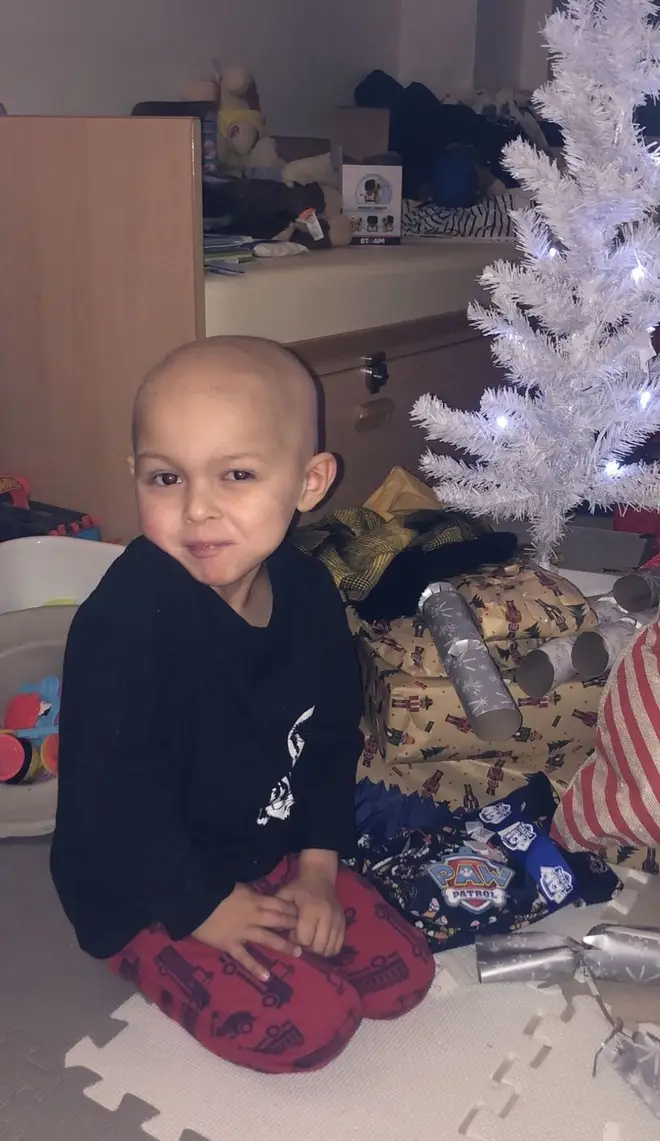 His father shared this experience: "Me and him, locked in a room for seven weeks. Seven weeks in an isolation room with a four-year-old…
"You get to know each other pretty well. He had no immune system, he had no weight on him, he hadn't eaten in months, everything had to be liquidated."
But now, "you wouldn't be able to tell the difference between him and everyone else".
The fear is that if Archie doesn't get this life-saving treatment he will revert to the "skinny and frail" little boy who was locked in an isolation room over the festive period.
The DFMO study in Charlotte has extensive research into its effectiveness. "It's had good results" with "very few side effects," Marcus said.
Archie's oncologist is so confident in the study he told the family that "if it was down the road and it didn't cost hundreds of thousands of pounds" he'd be saying "go for it".
Marcus explained: "The drug doesn't kill the cancer, it stops it from being able to reproduce. If he's got clear scans this drug will actually stop his cancer from being able to come back."
Although all of Archie's family have come together to try and raise the funds for this life-saving treatment "everyone's really busy, trying to keep a roof over their heads, we're just a normal family," his father said.
"I drive a lorry, mum works in an office…So, there's no real lumps of cash or network and connections… so we struggled a lot there."
The one connection Marcus was lucky enough to have is Ab-Fab star Dame Joanna Lumley. After building a rapport with the actress whilst doing some work on her house years ago, Marcus reached out to try and raise the status of Archie's campaign.
After making a sizeable donation herself, the TV star detailed the story and implored people to "use the goodness" in their hearts to help try to save little Archie's life. You can watch her video here.
Dame Joanna Lumley tries to raise the profile of Archie's campaign
Donate to help Archie reach his target to go the USA and be a part of the DFMO trial here: Archie's Urgent Campaign