This Is How Fixed Odds Betting Terminals Can Ruin Your Life
6 December 2016, 08:36 | Updated: 6 December 2016, 08:39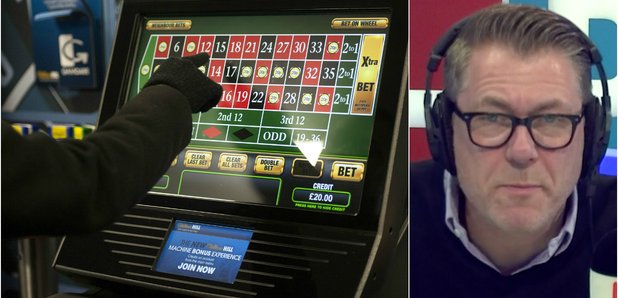 A caller told LBC about how fixed odds betting terminals have destroyed his life - and burnt through his life savings.
Speaking to Ian Collins, AJ revealed how he lost £8,000 in just one day as he piled money into the controversial machines.
And he warned everyone to avoid getting addicted to them.
Speaking of FOBTs, AJ said: "I went into a bookmakers and I put £8,000 in them in one day. That was my personal savings. I even went to the extent of getting loans to pay for my habit.
"This needs to stop, but I don't think it's going to stop.
"These places have made me cry. These places have broken me. I know of people who have lost their loved ones, their families, their businesses.
"The people using these machines are working class. It starts off as fun, but leads to hiding from people so you can go and have a quick spin. And a quick spin is £100 in a couple of seconds."
How Fixed Odds Betting Terminals Work
The machines, which were introduced into bookmakers in 2001, allow player to compete in a game where they have a set chance of winning. Many of these are roulette, meaning punters have a 1 in 35 chance to win. Other games, such as Rainbow Riches, Reel King and Deal or No Deal are also popular.
Punters like them because the 36/1 odds offer the chance of a huge payout.
The maximum amount you can spend per spin is £100, with the maximum win set at £500 per spin. They are limited to three spins per minute, meaning you can spend up to £18,000 in just one hour. In that time, you are statistically likely to win five times, with a maximum payout in five wins of £2,500.
But bookies like them because they can't lose. They get a 2.7% return, regardless of winnings, because of their fixed odds. That isn't the case with gambling on sport, when bookies can lose out. They don't even need to pay wages for them.