Channel 4 election show in chaos over Stanley Johnson's 'burka fighter pilot' remark
13 December 2019, 01:22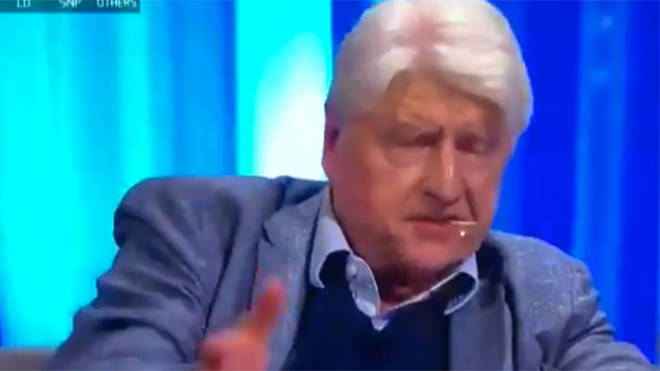 Channel 4's election night broadcast descended into chaos, with Boris Johnson's father being accused of islamophobia by viewers.
Stanley Johnson was appearing on the large Channel 4 election night panel, with Rylan Clark-Neal and Katherine Ryan alongside Krishnan Guru-Murthy, Tom Watson and Judge Rinder.
In one moment during their programme, when discussing newspaper remarks printed in columns by Boris Johnson, Stanley Johnson said that most of the prime minister's articles had been "taken out of context."
Follow the latest general election developments LIVE here
He went on to say "I don't want to go further down this route" but if he "were a female fighter jet pilot, I would expect someone to say don't wear a burka."
He was booed and jeered by the audience before repeating: "Fighter jet pilot"
Judge Rinder hit back: "You'd expect them to be qualified and that's the only thing that matters."
The crowd shouted incredulously and a member of the panel shouts: "What are you talking about man?"
Mr Johnson drew laughter from the audience when he said that his son was "not a right-wing populist."
Viewers said they were going to tune off after listening to Mr Johnson's "total nonsense."
Viewers took to Twitter to tell of their shock and disgust at his remarks.
One person wrote: "Nish Kumar's head in his hands is the only appropriate response to Stanley Johnson."
Another posted: "Get Stanley Johnson off of Channel 4."
A third said: "Stanley Johnson's mask just slipped and we can see exactly where Boris' opinions on "letterboxes" etc come from."
He was also confronted by comedian and presenter Katherine Ryan on single motherhood.