Remain-backing celebrities including Hugh Grant reveal exit poll disappointment
13 December 2019, 02:19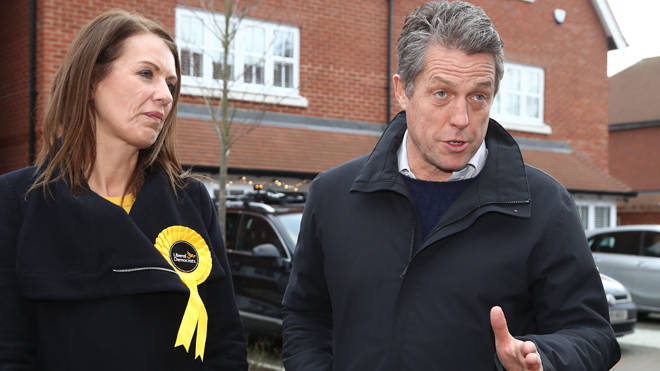 Remain-supporting celebrities have taken to social media to tell of their disappointment that Boris Johnson looks on course to win the General Election.
Hugh Grant tweeted: "There goes the neighbourhood" minutes after the Exit Poll data was released that showed a chunky majority for Boris Johnson.
A disappointed-looking Hugh was pictured looking into his phone while out for dinner with his wife Anna Eberstein.
Other celebrities also told of their disappointment and frustration. Lily Allen posted: "Still holding out for a Labour majority."
David Walliams posted: "Boris won by a landslide because all his children voted for him."
Gary Lineker wrote: "Great win for the blue side. IT's the first time that Rangers FC have qualified for the European knockout stage."
Boris won by a landslide because all of his children voted for him.

— David Walliams (@davidwalliams) December 12, 2019
Other celebrities welcomed the exit poll prediction,.
Countdown's Rachel Riley and actress Tracy-Ann Oberman both posted online, after repeat criticism over Labour's failure to properly tackle the anti-Semitism crisis.
Following the exit poll, Riley tweeted: "Love you Britain."
Oberman tweeted: "For last 2 years Rachel Riley & I have faced abuse beyond imagining. Lies smears violence. 
"We stood against it all because we truly believe Corbyn responsible for allowing the anti Jewish racism & misogyny to go unchecked. His online hate army thought no one cared. YOU DID x."