Jeremy Corbyn says he won't lead the Labour party into another election
13 December 2019, 04:55
Jeremy Corbyn has described the 2019 General Election outcome as "very disappointing" and said he will not lead the Labour party in any future election campaign.
He said he would discuss with the party how to ensure there was a "process of reflection ".
"I will lead the party during this period to ensure this discussion takes place."
Earlier he was challenged on his future as leader of the party as he arrived at the count in his constituency.
Walking past a bank of reporters at the Sobell Leisure Centre in Islington North, he was asked whether he would be resigning as leader of the Labour Party, with hundreds of constituencies still to declare.
Mr Corbyn replied: "Nice to see you. Thank you very much for coming" when he was repeatedly asked if he would resign as he walked into the count, to applause.
But after comfortably retaining his seat with a large majority, he announced he would not lead the Labour Party into any further elections.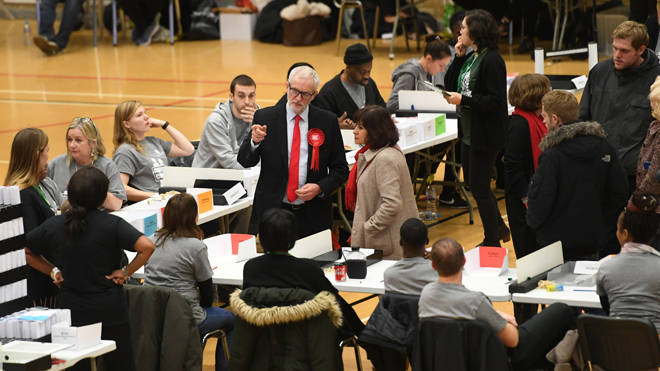 Mr Corbyn was also asked: "Was it you, or was it Brexit?" as he arrived at the count.
Politicians had already called for him to go - almost immediately after the exit poll was announced.
Ken Livingstone, the former Labour MP and Mayor of London, said his friend and ally Jeremy Corbyn had paid the price for several aspects of his campaign, including not taking more action against anti-semitism.
"The Jewish vote wasn't very helpful," Mr Livingstone said.
"Jeremy should have tackled that issue far earlier than he did.
"It looks like the end for Jeremy, which is disappointing for me since I'm a close ally. I'm sure he'll have to resign tomorrow."
While Mr Corbyn was criticised for Labour's radical election platform, Mr Livingstone said he would have preferred the party to have been even bolder.
"I thought that perhaps they weren't radical enough," he said. "But at the end of the day, the public didn't like it. I think the idea for a four-day working week wasn't very popular at all."
Labour's Ruth Smeeth called for Jeremy Corbyn to resign as she faced losing her seat in Stoke-on-Trent North.
She said: "I have lost, I am no longer MP - this is a disaster. Jeremy Corbyn should resign now before his own count is in."
Ms Smeeth has been critical of Mr Corbyn's handling of anti-Semitism allegations in the Labour party. She is a Remain supporter in an area which voted to Leave the EU.
Jess Phillips said: "I'm not going to sit here and start some sort of election race or even demand that Jeremy Corbyn goes because the Labour Party was never just about Jeremy Corbyn, it never was, regardless of the song."