Boris Johnson rejects Brexit 'pact' with Nigel Farage
1 November 2019, 18:26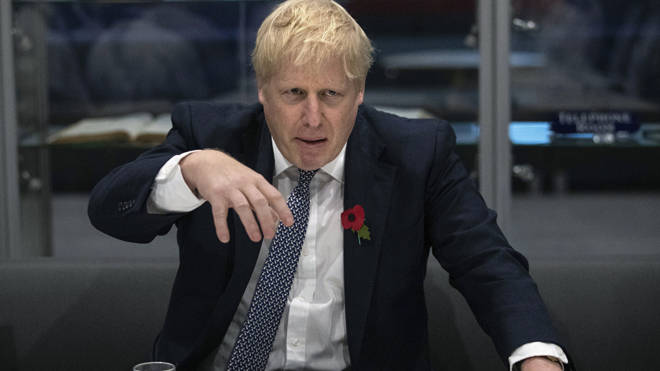 Boris Johnson has slapped down a suggestion in LBC's world exclusive interview with Donald Trump that he should form a 'pact' with Brexit Party leader Nigel Farage.
The US president was accused of 'meddling' in the UK election by calling for the Prime Minister to team up with the Brexit Party leader to form an "unstoppable force" for the December 12 vote.
Mr Johnson has declined to take up the advice of his close ally, who had also waded into UK politics to deliver a criticism of Mr Johnson's new Brexit deal and Jeremy Corbyn.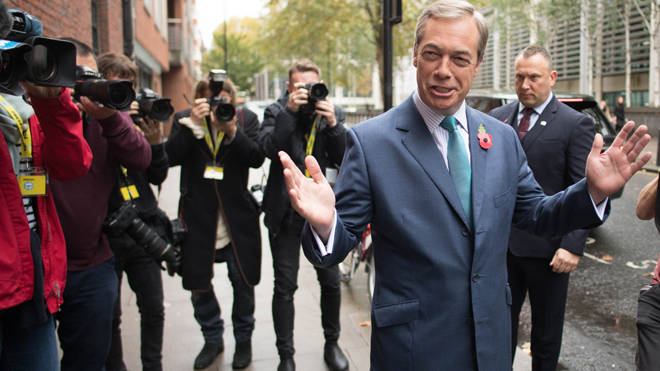 Asked if he would form an alliance with Mr Farage, Mr Johnson told ITV News: "I may respectfully say to all our friends around the world... that the only way to get this thing done is to vote for us.
"Vote for this Government because unfortunately, as I tried to point out, if you vote for any other party the risk is you'll just get Jeremy Corbyn, the Labour Party, dither and delay, not just one referendum next year but two referendums."
A Number 10 source confirmed that this explicitly meant no deals with the Brexit Party.
"The PM is clear that only a vote for the Conservatives will deliver not just on the Brexit deal but on the priorities people care about," the source said.
Ahead of the Brexit Party's General Election campaign launch on Friday, leader Nigel Farage told LBC: "Some newspapers are suggesting that we will fight vast numbers of seats, others think we will fight as few as 20 seats.
"I run a very tight ship, we don't leak.
"I will reveal all later on today.
"But, I can assure you that most of what I say will be about Boris's deal and the need, in my view, for some kind of Brexit alliance."
Steve Baker, a key figure as chairman of the European Research Group of hardline Tory Brexiteers, also rejected Mr Farage's idea.
"It is completely inconceivable that the Conservative Party would now go for no-deal and a pact," he said.
Contradicting the president, a No 10 spokesman denied the PM had discussed the deal with Mr Trump and said the agreement would not hinder trade.
"The PM's deal takes back control of our money, laws and border, and allows us to do trade deals with any country we chose - including the US," the spokesman said.
Mr Trump had said "under certain aspects of the deal ... you can't do it, you can't do it, you can't trade".
Mr Corbyn criticised the intervention, saying the president was "trying to interfere" to "get his friend Boris Johnson elected".
ITV will show the first head-to-head debate between Boris Johnson and Jeremy Corbyn on 19th November. Details of further multi-party debate and comprehensive general election coverage in due course pic.twitter.com/XTKEZI1EuH

— ITV Press Centre (@itvpresscentre) November 1, 2019
It also emerged today that Boris Johnson and Jeremy Corbyn will take part in a televised TV debate on ITV on November 19.
It will be the first time the party leaders go head-to-head in the election campaign.
Labour Party leader Jeremy Corbyn challenged Mr Johnson to a debate earlier in the week, and on Friday said it was "welcome" that he accepted.
"This is a once in a generation election. So it's welcome that Boris Johnson has accepted our challenge of a head to head TV debate. The choice could not be clearer: Boris Johnson's Conservatives protecting the privileged few or a Labour government on the side of the many," Mr Corbyn tweeted on Friday.
Mr Johnson also took to Twitter to comment on the debate.
"Looking forward to making the positive case to the country that we should #GetBrexitDone & deliver on the people's priorities - #OurNHS, schools, tackling crime & the cost of living," he said.
The Prime Minister was accused of running scarred from TV debates by rival Jeremy Hunt during the race to take over the Tory Party after the departure of Theresa May.
Mr Johnson did take part in two one-on-one debates during the battle for the Tory crown, but not before Mr Hunt and others placed him under great pressure to do so.
ITV made the announcement on Twitter on Friday afternoon and said details of further multi-party debates will be released in due course.