Brexit: Government activates no-deal motorway plan in Kent
28 October 2019, 07:28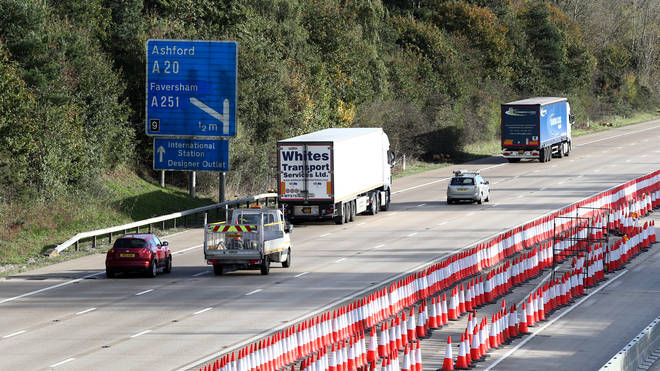 Measures to manage traffic if in the event of a no-deal Brexit have come into force on Monday morning across Kent.
Even though EU leaders will meet on Monday to discuss an extension to the UK's exit from the European Union, the Government have enacted Operation Brock across motorways in Kent.
Operation Brock is part of no-deal planning which will activate special measures to manage traffic on motorways in Kent.
Lorries heading for Europe will face a 30mph limit on a 13-mile stretch of the coast-bound carriage of the M20.
On Monday morning the roadworks which were implemented over the weekend have overrun causing major disruption.
M20 J6 - J7 Coastbound: Slow moving traffic heading Coastbound on the M20 between J6 (A229 Blue Bell Hill) and J7 (A249 Detling Hill) due to overrunning Highways England works to implement Operation Brock. Please allow extra time for your journey: https://t.co/yE4ctg6s9U

— KCC Highways (@KentHighways) October 28, 2019
All other traffic on the motorway - including lorries carrying out UK deliveries - must use a 50mph contraflow of two lanes in each direction on the London-bound side of the road.
Several holding areas to park lorries are also available to be activated if required, including at Manston Airfield.
Advice from Highways England suggests people travelling on the M20 should bring extra food and water in case their journey is delayed.
Brock M20: Operation Brock is being set up on the M20 between J8 and J9. The coastbound carriageway will be closed and the contraflow on the M20 Londonbound carriageway will be implemented. For full details follow below link https://t.co/e4uvzruckv: https://t.co/ebILC87L3U

— KCC Highways (@KentHighways) October 28, 2019
Highways England south east operations director Nicola Bell said:" Operation Brock is part of a set of measures put in place to allow the M20 and the rest of Kent to keep moving in the event of cross-channel disruption.
We have worked extensively with our partners in Kent to ensure that the county is as prepared as possible for any disruption to cross-channel services. We thank road users in advance for their patience while we carry out this necessary work."