Tory Councillor Set Up Petition To 'Criminalise EU Support', Twitter Ridiculed Him
17 October 2016, 14:02 | Updated: 26 April 2018, 15:40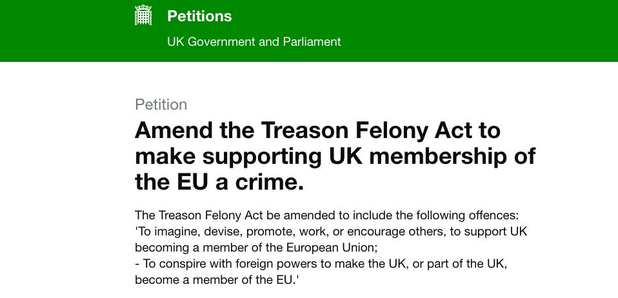 A Conservative councillor launched a petition to make supporting the EU a criminal offence, so Twitter exercised its free speech.
Christian Holliday, who sits on the Guildford borough council, launched his petition this morning. He proposes the government 'Amend the Treason Felony Act to make supporting UK membership of the EU a crime.'

After he publicised his push to reform the law on social media, Twitter users swiftly moved to ridicule the petition. Here are some of the best responses.
@CllrHolliday Are you, as an elected Councillor, seriously suggesting this? Not sure you've got the hang of democracy. Or free speech.

— Samuel West (@exitthelemming) October 17, 2016
I hope @CllrHolliday has worked out where he's going to find the funds to imprison 17 million people.

— Emma Kennedy (@EmmaKennedy) October 17, 2016
@CllrHolliday Urrr, last time I checked, we lived in a democracy. People being allowed to have different view points is kind of the point.

— Joshua Garrity (@combinehunter) October 17, 2016
Oh no. Tory Councillor @CllrHolliday seems to have accidentally deleted this tweet. Not to worry, buddy. I saved it, for you! pic.twitter.com/gBvGZyBSsf

— Alex Andreou (@sturdyAlex) October 17, 2016
@CllrHolliday You absolute melt.

— Michael Moran (@TheMichaelMoran) October 17, 2016
@CllrHolliday when we start deporting people who don't believe in British values you'll be the first on the aeroplane.

— Chris Weston (@chrisweston) October 17, 2016
Mr Holliday has now been suspended from the council until November 8 for referring to the council in the petition without their approval.