Nigel Farage: "We will contest every seat unless Boris Johnson abandons Brexit deal"
1 November 2019, 11:25
Nigel Farage has pledged to put a candidate in every constituency in Great Britain in the upcoming general election.
The Brexit Party leader said that his party will contest every seat unless Boris Johnson agrees to a "Leave alliance".
His appearance comes the day after LBC's World Exclusive interview with US President Donald Trump, who said Mr Farage should unite with the prime minister to become an "unstoppable force" in an Brexit election pact
The announcement sparks concerns the vote could be split with the Conservative Party on 12 December, potentially paving the way for Jeremy Corbyn to walk into Number 10.
Speaking at the campaign launch for the Brexit Party, Mr Farage said there is enough money for a "fully funded" election campaign, but that he was "open and flexible" to "local exceptions".
He added: "Already we are in communication with a number of MPs who are prepared to renounce the Withdrawal Agreement, to renounce the deal, and they themselves to stand on a ticket of a genuine free trade agreement or Leave on World Trade Organistion terms. 
"Of course in those cases, when MPs say this, we will view them as our friends and not our enemies."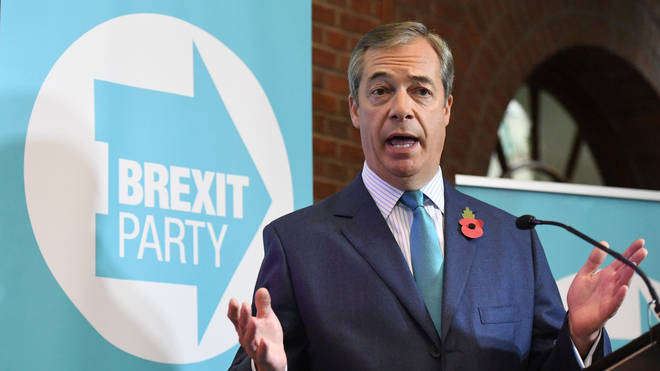 Mr Farage gave Mr Johnson a two-week deadline for an alliance to be agreed, or he would deploy the candidates in England, Scotland and Wales.
Reacting to Mr Farage;s declaration, James Cleverly MP, Chairman of the Conservative Party, claimed that a vote for Farage would risk Corbyn winning the popular vote.
He said: "A vote for Farage risks letting Jeremy Corbyn into Downing Street via the back door - and the country spending 2020 having two referendums on Brexit and Scottish independence. 
"It will not get Brexit done - and it will create another gridlocked Parliament that doesn't work."
During his speech, Mr Farage also hit out at the "broken promises" of the Government after it failed to bring the UK out of the EU on 31 October.
Mr Farage said that Boris Johnson's Withdrawal Agreement was "not Brexit" and added, "I say to Boris Johnson - drop the deal."