Remain Supporters George Osborne And Nick Clegg Meet In Restaurant
20 December 2016, 14:05 | Updated: 26 April 2018, 15:40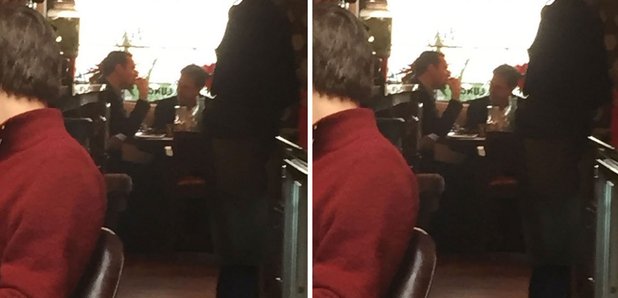 Pictures acquired by LBC show the former coalition partners enjoying a lunchtime meeting today.
The former Chancellor of the Exchequer and the former Deputy Prime Minister, were spotted having lunch together at the Cambridge Street Kitchen near Victoria in central London.
The pair, who both campaigned for the Remain side in the referendum, spent over an hour in a prominent front of house booth, enjoying wine with their lunch at the moderately priced restaurant.
Video: (v short) from an @LBC listener, Nick Clegg and George Osborne having a boozy lunch catch up in Victoria #CoalitionReunion pic.twitter.com/TObUafZXXU

— Vincent McAviney (@Vinny_LBC) December 20, 2016
Mr Osborne, who was removed from his position as Chancellor by Theresa May when she became Prime Minister, has kept a low-profile since the referendum. On Sunday he gave his first major television interview since losing his old job, when he argued that the government should pursue a softer Brexit and that "no red lines" should be drawn in negotiations.

Mr Clegg, who stepped down as leader of the Liberal Democrats after their poor showing at the last general election, has also called for the government to pursue a soft Brexit. He has also recently called a transitional deal with the EU, which could see the UK continuing to pay certain contributions and accepting free movement of people, a "complete inevitability."
Neither MPs' office has commented on the meeting. They say it is a private matter.