The Budget Proves Philip Hammond Is NOT A Closet Remainer: Liam Halligan
22 November 2017, 14:52 | Updated: 22 November 2017, 15:07
If you were under the impression Philip Hammond is still a closet Remainer then you may want to think again after today's budget, a Telegraph columnist has told LBC.
The Chancellor has revealed an extra £3bn would be set aside for Brexit preparations over the next two years.
Mr Hammond, who backed Remain, had been under fire from his pro-Brexit colleagues over his reluctances to spend millions preparing for the event of a no deal.
But, as he delivered his Budget, the Chancellor told the Commons: "While we work to achieve this deep and special partnership we are determined to male sure the country is prepared for every possible outcome.
"We have already invested almost £700 million in Brexit preparations and today I am setting aside over the next two years another £3 billion and I stand ready to allocate further sums if and when needed.
"No one should doubt our resolve."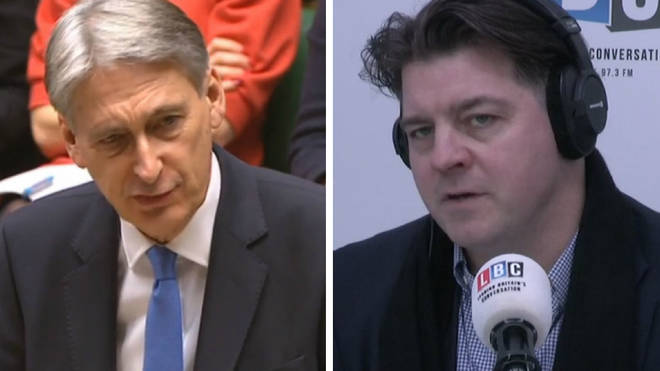 This announcement was described as "some of the most pro-Leave rhetoric" from the Chancellor since the referendum by Liam Halligan, who joined Shelagh Fogarty on College Green in Westminster on Wednesday.
He said: "Those on the Tory backbenches who think that Philip Hammond is a closet Remainer have had their fox shot."
"I almost sensed that Downing Street ripped the Budget speech off him last night and wrote the first three or four minutes of it.
"It was very pro-Leave, it said 'we're adding another £3bn to prepare for every possible outcome' on the Brexit talks and that includes trading under WTO rules."