General Election: Labour hit out at Boris Johnson as the PM delivers milk
11 December 2019, 08:09
The final day of election campaigning sees Boris Johnson and Jeremy Corbyn fight over every single vote with Labour attacking the Prime Minister
Boris Johnson started his day by helping load milk and orange juice bottles onto a delivery vehicle in West Yorkshire.
Asked about the narrowing polls, the Prime Minister told broadcasters: "This could not be more critical, it could not be tighter - I just say to everybody the risk is very real that we could tomorrow be going into another hung parliament.
"That's more drift, more dither, more delay, more paralysis for this country."
Pressed on whether he was nervous, Mr Johnson replied: "We're fighting for every vote."
Labour leader Jeremy Corbyn will be on a whistlestop tour of the country as he starts out in Glasgow which is his first of six campaign stops.
Like Boris Johnson, Mr Corbyn will visit Labour-held marginals trying to appeal to swing voters, seeking to secure every single vote.
Labour has tried to pivot away from its position on Brexit to focus on the NHS, last night the party released data suggesting the number of people waiting more than four hours in A&E is projected to have risen tenfold between 2010 and 2024.
Speaking to LBC in West Yorkshire on Wednesday morning, Boris Johnson's responded to the latest YouGov poll suggesting the Conservative lead has narrowed.
He said the Tories were "fighting for every vote" adding if elected he would "take this country forward, get Brexit done, unite our country, put massive cash injection into the NHS, into infrastructure, and unleash the potential of the whole of the UK."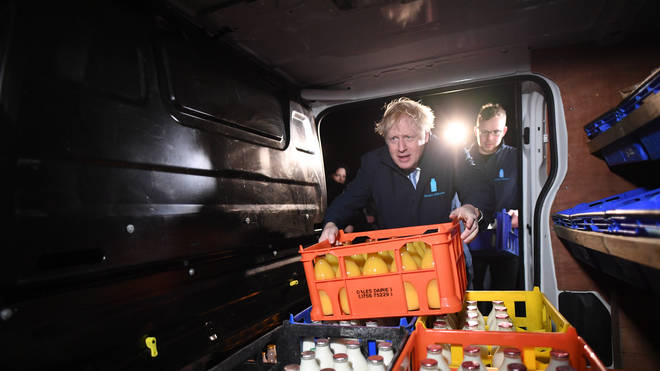 But, Labour's Shadow chancellor John McDonnell defended his colleague, Jonathan Ashworth, saying Labour's health spokesman, was "joshing" after he was secretly recorded questioning party leader Jeremy Corbyn's suitability for office.
Speaking to the BBC Mr McDonnell said: "As Jonathan Ashworth has said that was 'banter'. He was trying to entice his Conservative, well, so-called friend, into a discussion that was more banter than anything else, he made that absolutely clear."
He added: "He was in a joshing mood, that is what he said and I believe him. It's interesting, it says more about this so-called Conservative friend than Jonathan Ashworth.
"What sort of friend records a telephone conversation like that and then gives it to a conservative disruptive website?
"But that's the nature of Conservative politics now. That's what Boris Johnson has dragged the Tory Party into. I think it's dishonourable, I think it's gutter politics. But it says more about Conservative politics than it does about anything Jonathan Ashworth who has behaved completely properly."
Mr McDonnell accused the Prime Minister of using the London Bridge terrorist attack as "an opportunity".
He said: "I just wish we have had the Conservatives being honest with us. I just wish we hadn't been having this gutter politics, fake websites, lies and smears.
"I just wish also they would have respected the parents of Jack Merritt who was killed on our streets.
"I wish Boris Johnson had not seen that as to quote the father of Jack Merritt, as 'an opportunity'. I just wish he'd shown sympathy and respect and empathy.
"I just wish Boris Johnson had shown empathy about a child being treated, suffering from pneumonia lying on a hospital floor. That's the sort of politics the Conservatives now have under Johnson."
Meanwhile, back in Yorkshire the Prime Minister later delivered a crate of milk and other items to a house in Guiseley.
Two bottles of milk already outside the property were removed before the PM arrived.
He knocked on the door, which was opened by civil servant Debbie Monaghan, 40, who said: "Look who's here."
She called to her husband Mark, 40, and said: "So nice to meet you, Prime Minister. What are you doing up so early?"
Mr Johnson said he was delivering milk, orange juice, washing up liquid and other things before reiterating campaign pledges.
Mr Monaghan, who works for Northern Powergrid, told reporters: "It's a surprise. It's very early, I assume he's travelled a long way but I'm going to vote Conservative so I'm quite pleased."