Government's 40 new hospitals pledge 'not serious,' says shadow health secretary
30 September 2019, 18:21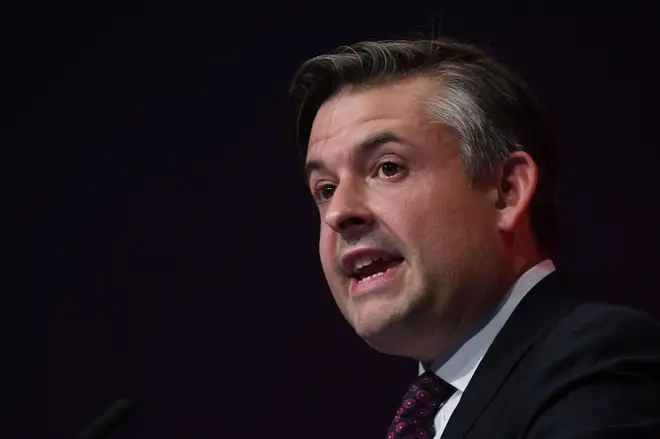 The Government's pledge to build 40 new hospitals "isn't a serious plan," according to Labour's shadow health secretary.
Boris Johnson set out the ambitious plans at the Conservative Party Conference in Manchester on Sunday, announcing £13 billion of funding for the facilities.
But Labour MP Jonathan Ashworth said it was a "spooky coincidence that all these marginal constituencies are on the list" as he argued the "biggest hospital rebuilding programme in history was under the last Labour government".
He also branded the plans "a wing and a prayer ahead of a general election."
The shadow health secretary said the announcement was "not in fact 40 guaranteed new hospitals, but six hospital reconfigurations".
Boris Johnson just said building 40 new hospitals in fact it's 6 hospital reconfigurations. And under the Tories:

🚨Cuts have left hospitals with a £6 billion backlog of repairs.

🚨 Less than 3% of previously announced capital investment has actually been delivered since 2017.

— Jonathan Ashworth (@JonAshworth) September 29, 2019
His comments came as health minister Edward Argar made a statement in the Commons on the Government's health infrastructure plan, saying: "The NHS is the Government's top domestic priority.
"We are backing our commitment to our NHS with record levels of funding. As part of this, today I am pleased to update the House on the biggest, boldest hospital building programme in a generation.
"Through our new health infrastructure plan, we are supporting more than 40 hospital building projects across the country, with six getting the go-ahead immediately... This includes £2.7 billion investment that gives those six hospitals the funding to press ahead with their plans now."
The six trusts, he added, are: Barts Health Trust, Epsom and St Helier Trust, West Hertfordshire Trust, Princess Alexandra Hospital Trust, University Hospitals of Leicester Trust and Leeds Teaching Hospitals Trust.
Mr Argar said that a further 21 schemes had been given the go-ahead, with £100 million seed funding to go to the next stage of developing their plans "subject to business case development".
He added: "This is a long-term strategic investment in the future of our NHS, properly funded and properly planned to ensure our world class healthcare staff have world class facilities to deliver care and to meet changing need and rising demand so the NHS can face the 2020s and beyond with confidence."
But Mr Ashworth also said the NHS was facing a repair bill of £6 billion "after years of capital cuts under this Conservative Government".
He said: "Isn't the truth that the minister and the Secretary of State cannot give any guarantee that each and every one of these hospitals will be upgraded between 2025 and 2030 because not a penny piece of extra investment has been allocated to this programme after 2025-2030."
Mr Ashworth said "not a single mental health trust" was on the list, adding: "Doesn't this show yet again that this Government neglects mental health services and is neglecting some of the most vulnerable patients in the land."
He reeled off a list of marginal constituencies set to benefit, including the Prime Minister's own in Uxbridge, adding: "What a spooky coincidence that all these marginal constituencies are on the list.
"This isn't a serious plan, it's a wing and a prayer ahead of a general election. The Prime Minister, he over-spins, he under-delivers, he's not straight with people, the truth is you cannot trust the Tories with the NHS."
Responding, Mr Argar said: "This is an ambitious programme, but unlike the last Labour government, we won't be leaving hospitals saddled with masses of PFI (private finance initiative) debt on a programme that was massively expanded under the last Labour government in which he served as a special adviser."
In response to a question from Labour's Liz McInnes about how the schemes were selected, Mr Argar replied: "The reason we are now coming up with an approach, and a new approach, which delivers a rolling capital investment to a strategic vision linked to investment elsewhere in the health service is because singularly the previous government utterly failed to do that."
He said bids came from individual NHS trusts and were put through "the usual bidding process".