Nigel Farage: 'National humiliation' if Big Ben doesn't bong on Brexit day
15 January 2020, 12:32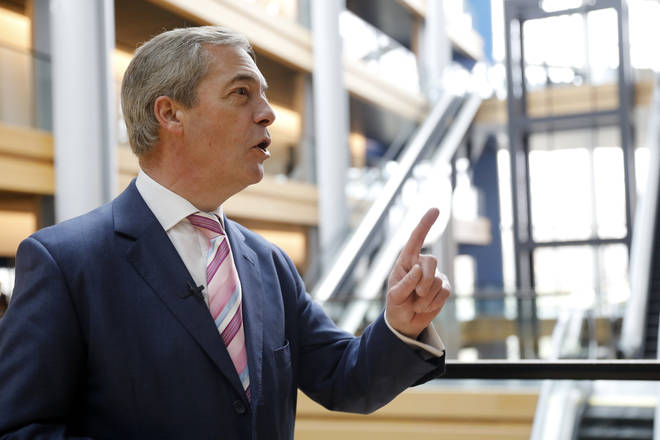 A jubilant Nigel Farage told LBC News that Leave Means Leave had been granted permission to hold a Brexit celebration in Parliament Square.
The arch-Brexiteer said no matter which way people voted it was "a big moment in British history," and he felt "Parliament Square was the place to hold a little celebration to mark this occasion."
Mr Farage revealed to LBC News the celebrations will start at 9pm just two hours before the "big moment" at 11pm when the UK officially leaves the EU.
"I'm looking forward to it hugely," he said.
He told LBC News there would be "a range of people," from across the political spectrum.
Promising "some singing," Mr Farage reassured those thinking of attending that "most of the speakers will not be politicians."
"It's been very very difficult to get anyone in authority to think we should even mark Brexit," he said, adding "it's as if the government and the civil service are more embarrassed by it than proud of it."
He said the issue if wether Big Ben would chime to mark the occasion was a "much bigger problem."
"The whole world, when we leave at 11 o'clock, will be expecting Big Ben to ring."
He said if it doesn't bong it will be a "national humiliation."
He told LBC News the figure of £500,000 to get the bell in a serviceable condition had left supporters of the idea "scratching our heads" as to how to raise the money.
Hinting a loudspeaker could be used to broadcast the bongs of Big Ben, he said they were looking into other alternatives.
When asked on Prime Minister Boris Johnson's attendance, Mr Farage said he had an "open invitation," and that he would "love him to come."
Mr Farage pointed out that the PM had "just won a general election saying 'get Brexit done' and arguing that it's the right thing for the country, and we, of course, would love him to come.
"The offer is out there the offer is open, I very much hope that he accepts it."
"If he doesn't," Mr Farage said, "I'll ask myself a question, is he supporting Brexit because it's good for votes, or does he really think it's a good thing?"