Ukip's Neil Hamilton Puts The Boot Into Nigel Farage
6 October 2016, 17:52 | Updated: 6 October 2016, 18:14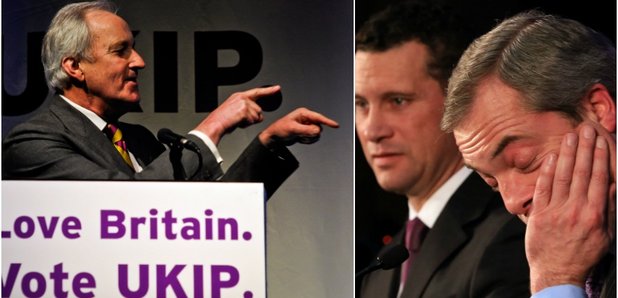 The civil war in Ukip shows no signs of slowing down, despite Steven Woolfe sustaining a serious injury in an altercation at a party meeting just a few hours ago.
Speaking to Iain Dale, Neil Hamilton did not hold back in the wake of Woolfe's collapse, addressing a question about the state of the party by claiming Farage "has to try to dominate everything around him."
Shock Image Shows Steven Woolfe On Ground After Collapsing
Hamilton took aim at the interim Ukip leader over Farage's criticism of Douglas Carswell, saying: "Because of the unfairness of the first past the post system, we only had Douglas Carswell [elected to the Commons].
"It's most unfortunate that Nigel has lost no opportunity to abuse him publicly and try to get him expelled from the party, because he holds a personal grudge against him.
"Douglas should be an important part of our team, same as I should be an important part of Ukip's pitch to the voters.
"But [Nigel] can't cope with people who stand up to him and tell him when they think he's wrong.
"He's an irresistible force but when he comes up against an immovable object like me, that tends to produce sparks."