Christmas train chaos as SWR workers set to strike for most of December
5 November 2019, 15:16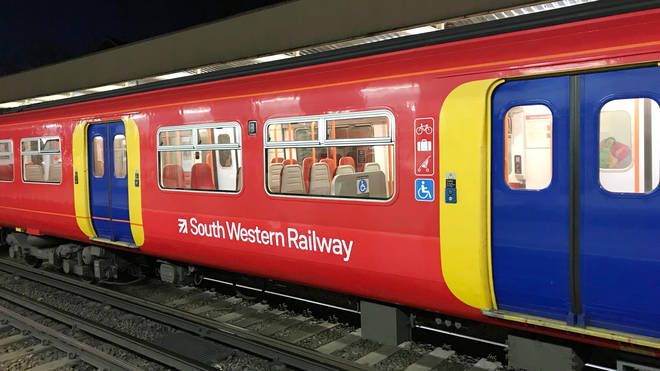 One of the UK's busiest commuter train services is set to be hit with 27 days of strikes in December, leaving the Christmas plans for hundreds of thousands of people in chaos.
The RMT today announced the long period of strike action on South Western Railway, which could bring the network to a halt over Christmas.
The rail union announced industrial action for almost all of December after the operator allegedly "dangled a potential breakthrough deal in front of the union and then failed to honour it, offering no reasons for the delay."
The strike will take place from December 2 to 11, December 13 to 24, and December 27 to January 1.
A statement added: "The company's unremitting failure to give assurances that their new operational model won't move to Driver Controlled Operation – with the role of the guard butchered completely – means the union has been left with no alternative but to call further industrial action."
It would involve guards, commercial guards and drivers.
The move could cause widespread disruption across the commuter belt in Surrey and Hampshire, as well as areas further into the south west.
There are also engineering works taking place elsewhere on the network, with London Paddington and King's Cross both closed over the festive season.
RMT General Secretary Mick Cash said: "Our members have been left with no choice but to call a further 27 days of strike action on South Western Railway.
"At the last meeting we held with SWR principles in agreements were made in good faith with the company's negotiating team and we now feel hugely let down again. As long as the company continues to refuse to give assurances on the future operational role of the guard we will remain in dispute.
"I want to congratulate our members on their continued resolve in their fight for safety and the role of the guard on SWR. It is wholly down to the management side that the core issue of the safety critical competencies and the role of the guard has not been agreed.
"The union remains available for talks."
Senior Assistant General Secretary Steve Hedley added: "We went into negotiations with management and they put a deal on the table where there would be a guard on every train.
"The guard would be in charge of closing the doors and dispatching the trains and we thought we had an agreement and then they failed to endorse that deal.
"They took it away and they didn't bring it back, and our members were just absolutely gobsmacked because this was actually management's proposal to us to settle a deal.
"We agreed with them, and then they took it away and took it off the table.
"We negotiated a deal with them which they made proposals we agreed with and then they've taken it off the table.
"So there's plenty of time between now and Christmas, if they want to put those proposals back on the table, then we're quite happy to sit around with them and thrash that out."
South Western Railway have been contacted for a comment.