Boris Johnson rules out prospect of a Northern Irish-only backstop
11 September 2019, 21:29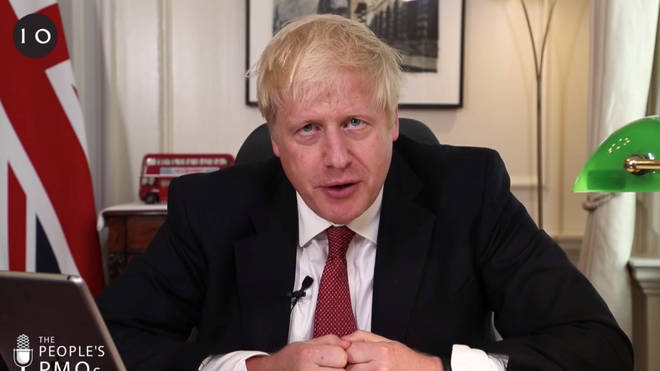 Boris Johnson took to Facebook this evening for the latest round of People's PMQs, ruling out the prospect of a Northern Irish-only backstop.
Answering a question on the current state of the backstop during the session of People's PMQs, Mr Johnson said: "The backstop is going to be removed ... I very much hope, or I insist."
The Prime Minister added: "Without that, there is not going to be a deal."
Mr Johnson continued: "We will not accept a Northern Ireland-only backstop. We have to solve the problem of the Northern Ireland border but we're working very hard to do that."
The idea was first introduced by the EU during early stage negotiations when then-prime minister Theresa May.
But it was quickly dropped after the DUP, whose 10 MPs propped up the Tory government, expressed their anger at the idea.
A Northern Ireland-only backstop would build on a common food and agriculture zone across Ireland.
DUP leader Arlene Foster has not swayed on her opposition to the measure, and said i would mean one part of the UK would be left in the customs union and subject to the rules of the single market without any consent.
Earlier this week Mr Johnson had fuelled rumours he could extend the Northern Ireland-only backstop to create a border down the Irish Sea.
Speaking at a press conference in Dublin, he said: "The landing zone is clear. We need to find a way to ensure the UK is not kept locked in the backstop arrangement and there's a way out for the UK,.
"Strip away the politics and at the core of each problem you find practical issues that can be resolved with sufficient energy and a spirit of compromise."
During People's PMQ's, Mr Johnson made no comment on the ruling by the Court of Session in Edinburgh that his decision to prorogue Parliament was "unlawful".
However, he did select a number of other enquires questioning his choices over the past week.
Asked if he was anti-democratic, and told that he was the leader of an authoritarian regime, Mr Johnson said: "I must respectfully disagree with you in your characterisation of this Government."
He continued: "Yes, of course, if opposition members of Parliament disagree with our approach, then it is always open to them to take up the offer I made twice now, twice, that we should have an election.
"There is nothing more democratic in this country than a general election. We will get on and we will come out of the EU on October 31."